First Bank of Nigeria Limited is the premier bank in West Africa with its impact woven into the fabric of society. See more First Bank of Nigeria Limited Job vacancies Here >>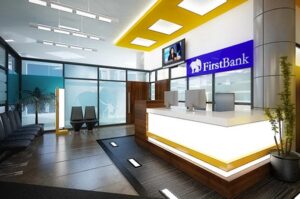 First Bank of Nigeria Limited Recruitment is to fill the position below:
Job Title: Team Lead, Data Governance
Job Identification: 861
Location: Samuel Asabia House, Lagos
Job Schedule: Full time
Job Objective
Lead the Bank's overall Data Governance (DG) Management activities, from planning to development, implementation and operationalization of the Data Governance framework as well as the various projects and initiatives.
Establish a Data Governance culture through promoting data as an asset, instilling accountability while ensuring the integrity, usability, and security of all enterprise data assets.
Ensure adequate planning and optimal utilization of resources.
Duties and Responsibilities
Manage the overall Data Governance program at the Enterprise level as well as departmental and unit levels.
Breaking down the data governance strategic and tactical plans into operational plans and activities.
Develop, implement and operationalize the Enterprise Data Governance standards, policies, procedures, usage guidelines and principles.
Assist in the development and maintenance activities of data standards, policies, procedures, and processes related to other Data Management functions.
Support the implementation of strategies & processes across the entire data lifecycle management framework.
Create a reporting cadence on data governance status for distribution to all stakeholders.
Plan and execute the staff resourcing requirements for the various DG initiatives.
Facilitate sharing and adoption of data governance best practices through governance consuls and committees within the bank, e.g., change agents.
Support the definition of data quality rules, standards and strategy consistent with the bank's strategies and goals.
Identify and execute innovative ways of achieving operational efficiency and increasing productivity among team members.
Guide members of the DG community through data governance concepts, explaining the benefits of data governance policies and procedures within the context of the user's needs.
Identify, define, and manage Data Domains and Elements, including the business and technical definitions, data lineage, metadata and source of truth, and ensuring its full inclusion in the Data Governance tools and workflows.
Lead Data Governance Associates in the creation, monitoring, reporting of enterprise data governance metrics.
Serve as SME (Subject Matter Expert) and resource for all data governance related issues.
Perform periodic data risk assessment and business impact analysis in order to identify and mitigate risks/issues, whether existing or emerging.
Develop & maintain a robust metadata inventory of the enterprise data assets, including authoritative system owners.
Maintain artifacts surrounding best practices and standards related to data tools and technologies across the bank.
Assess the impact of introduced changes to people, process and systems and develop relevant communication and awareness initiatives to support the effective implementation of change.
Provide a single point of contact for queries on all Data Governance matters.
Recommend new processes or improvements to existing business processes that promote Data Governance and Quality.
Manage functional group activities: task assignments, workload management & related work as assigned.
Lead the development and management of data governance requirements for the various project.
Build strong relationship with stakeholders to influence consistent implementation and operationalization of data governance policies, processes, standards, and guidelines across business areas as assigned.
Lead the development of methods for monitoring and reporting on data incidents, compliance to data standards, management approaches, policies, usage guidelines & principles and other KPIs across business areas/units.
Collaborate closely with other teams within the CDO office to ensure consistency and a synchronized approach to data governance issues.
Support the creation of budgets for implementing Data Governance Programs.
Propose a training plan based on the identified needs of DG team members and submit to the Unit head for review.
Monitor training progress of team members and the subsequent impact on their day-to-day work.
Review of work outputs from team members.
Provide coaching and on-the-job training to subordinates in order to undertake their assigned responsibilities and increase productivity.
Perform other related duties or assignments as directed.
Job Requirements
Education:
Minimum of a First Degree or its equivalent in a Business /IT related discipline
Masters, MBA or a recognized professional certification will be an added advantage.
Experience:
5-8 years' work experience in similar role.
Application Closing Date
21st July, 2023.
How to Apply
Interested and qualified candidates should:
Click here to apply online
If you think this job post can be helpful to someone else, please share it on Facebook, Twitter, WhatsApp, LinkedIn or Telegram using the buttons below. Thank you