Mercy Corps is a leading global organization powered by the belief that a better world is possible. See more Mercy Corps Nigeria Job vacancies Here >>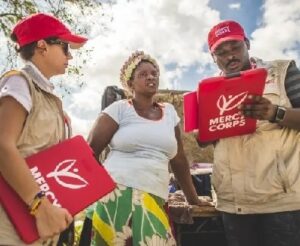 Mercy Corps Nigeria recruitment is to fill the position below:
Job Title: RRA Program Intern
Requisition Number: PROGR003938
Location: Abuja (FCT)
Employment Type: Internship
Job Category: Programming
Program / Department Summary
Mercy Corps Nigeria was established in 2012 to respond primarily to growing humanitarian needs in the Northeast. With a strong and growing team of over 200 staff, Mercy Corps is currently serving over 600,000 beneficiaries across the country with programming in Lagos in the South; Kaduna, Benue, Nasarawa, and Plateau in the Middle Belt; Kano, Yobe, and Borno in the North. Programs include girls' education and financial inclusion, community peacebuilding, market-based livelihoods, and a multi-sector humanitarian response that has a strong emphasis on WASH, Shelter, Cash, and Protection.
With the vision of a Nigeria in which all people are empowered, engaged, resilient, and secure, Mercy Corps Nigeria focuses on the root causes of conflict, governance, humanitarian response, and market systems development. Working with a diverse funding base that includes the United States Agency for International Development (USAID), UK Department for International Development (DFID), United Nations (UN), European Commission (EC), and several foundations, Mercy Corps empowers people to recover from crisis, build better lives and transform their communities for good. In 2019, Mercy Corps was awarded a five-year, $30 million USAID-funded Rural Resilience Activity in Nigeria's northeastern states. The purpose of the Rural Resilience Activity is to sustainably move people out of chronic vulnerability and poverty. The Rural Resilience Activity will enable individuals and communities to engage in strong and sustainable market systems rather than continuing to rely on humanitarian assistance and faltering with each new shock.
The Rural Resilience Activity is a five-year, $49 million USAID-funded Program in Nigeria's northeast. The purpose of the Rural Resilience Activity is to sustainably move people out of chronic vulnerability and poverty. The Rural Resilience activity will enable individuals and communities to engage in strong and sustainable market systems rather than continuing to rely on humanitarian assistance and faltering with each new shock. To achieve this purpose, the Activity will have five components and five cross-cutting elements:

Component 1: Provide up-to-date evidence for the selection of market systems, livelihoods, and employment opportunities that contribute to inclusive and resilient growth and improved nutrition.
Component 2: Stimulate market systems growth and diverse economic opportunities (Pull activities).
Component 3: Build capacity to take advantage of market systems opportunities (Push activities).
Component 4: Sequencing, layering, integrating (SLI), and collaborative learning to improve activity effectiveness, sustainability, and scale.
Component 5: Supporting Market Resilience to COVID-19 Shocks
General Position Summary
This Program Intern is based in Abuja, FCT with major responsibility in supporting the teams in record retention, initiating procurement requests, supporting focal point for documentation, securing approvals, and assisting the Learning and Communications Officer in day-to-day tasks.
S/he will work closely with the Knowledge Management team to carry out tasks for the program ensuring delivery and accurate documentation of program files.
Essential Job Responsibilities
Support the Learning and Communications team for Rural Resilience Activity in documentation and record retention in compliance with PM@MC minimum standard and manage the documentation of the sector for audit and donor compliance.
Liaise with finance, Operations, and Rural Resilience Activity offices to provide necessary program-related documentation when required.
Assist the Learning and Communications team on all administrative affairs in liaison with other relevant team members.
He/she will be a focal point for all the field demands to seek approvals, follow up with program support and program management/team lead on the approvals of Purchase Requests, Purchase Orders, and preparation of payment documents and follow up on approvals, reviews, procurement, and payment processes as per Approval Authority Matrix, and final submission to finance team for pay-out.
Maintaining all documentation relating to Rural Resilience Activity required ensuring accountability to the participants and donor.
Assist in organizing internal and external meetings/trainings for the Rural Resilience Activity and take notes of those meetings and disseminate them to team members and external audiences.
Folder management to keep program staff updated on all documents and make it possible for them to easily access required documents in google team drive.
Support in documenting lessons learned and success stories.
Any other duty when assigned.
Organizational Learning:
As part of our commitment to organizational learning and in support of our understanding that learning organizations are more effective, efficient, and relevant to the communities they serve, we expect all team members to commit 5% of their time to learning activities that benefit Mercy Corps as well as themselves.
Accountability to Beneficiaries
Mercy Corps team members are expected to support all efforts toward accountability, specifically to our beneficiaries and to international standards guiding international relief and development work, while actively engaging beneficiary communities as equal partners in the design, monitoring and evaluation of our field projects.
Accountability
Reports To: Learning and Communications Officer
Works Directly With: RRA Knowledge Management, Learning and Communications, Operations, and Finance teams.
Knowledge and Experience
Bachelor's Degree / HND in Development Studies with knowledge of social work.
Knowledge of reporting on program implementation with relevant field experience (Minimum of 1 year).
Proficient in Microsoft Office Skills (Outlook, Excel, PowerPoint, Word).
Professional, good organizational capacity, good human relationships, motivated, flexible, culturally sensitive.
Fluency in both verbal and written English is highly preferred.
Multi-tasking, coordination, organization, and prioritization skills are essential.
Ability to work independently and cooperatively with team members required.
Ability to work under pressure.
Strong interpersonal, intercultural, and communication skills.
Success Factors:
The successful candidate will be willing to multitask, set priorities and work under tight deadlines with a complex team. S/he will demonstrate strong interpersonal and cross-cultural communication skills and be committed to the values and mission of the Rural Resilience Activity team.
The most successful Mercy Corps Staff members have a strong commitment to teamwork and accountability, thrive in evolving and changing environments, and make effective written and verbal communication a priority in all situations.
Diversity, Equity & Inclusion:
Achieving our mission begins with how we build our team and work together. Through our commitment to enriching our organization with people of different origins, beliefs, backgrounds, and ways of thinking, we are better able to leverage the collective power of our teams and solve the world's most complex challenges.
We strive for a culture of trust and respect, where everyone contributes their perspectives and authentic selves, reaches their potential as individuals and teams, and collaborates to do the best work of their lives.
We recognize that diversity and inclusion is a journey, and we are committed to learning, listening and evolving to become more diverse, equitable and inclusive than we are today.
Equal Employment Opportunity:
Mercy Corps is an equal-opportunity employer that does not tolerate discrimination on any basis. We actively seek out diverse backgrounds, perspectives, and skills so that we can be collectively stronger and have a sustained global impact.
We are committed to providing an environment of respect and psychological safety where equal employment opportunities are available to all.
We do not engage in or tolerate discrimination on the basis of race, colour, gender identity, gender expression, religion, age, sexual orientation, national or ethnic origin, disability (including HIV/AIDS status), marital status, military veteran status or any other protected group in the locations where we work.
Safeguarding & Ethics:
Mercy Corps is committed to ensuring that all individuals we come into contact with through our work, whether team members, community members, program participants or others, are treated with respect and dignity.
We are committed to the core principles regarding the prevention of sexual exploitation and abuse laid out by the UN Secretary-General and IASC and have signed on to the Interagency Misconduct Disclosure Scheme.
We will not tolerate child abuse, sexual exploitation, abuse, or harassment by or of our team members. As part of our commitment to a safe and inclusive work environment, team members are expected to conduct themselves in a professional manner, respect local laws and customs, and adhere to the Mercy Corps Code of Conduct Policies and values at all times. Team members are required to complete mandatory Code of Conduct e-learning courses upon hire and on an annual basis.
Application Closing Date
28th July, 2023.
How To Apply:
Interested and qualified candidates should:
Click here to apply online
Note
Applicants should have their CVs and Cover Letters in one document addressing the position requirements.
Female candidates who are qualified are strongly encouraged to apply.
If you think this job post can be helpful to someone else, please share it on Facebook, Twitter, WhatsApp, LinkedIn or Telegram using the buttons below. Thank you