Ascentech Services Limited is an absolute Human Resource Solution Provider incorporated in 2013 with its Head Office in Lagos, Nigeria. We are committed to forging long-term partnerships with our clients by creating and delivering robust and flexible services that address the changing needs of their business. Join Ascentech Services Limited careers team today, and be part of our success story.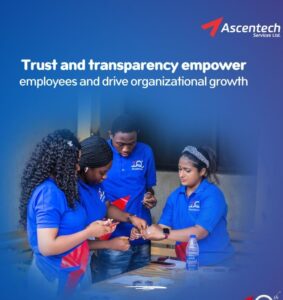 Ascentech Services Limited Recruitment is to fill the position below:
Job Title: Chief Operations Officer (Female)
Location: Abuja (FCT)
Employment Type: Full-time
Industry: Fintech / Robotics
Responsibilities
Oversee the day-to-day operations of the company, ensuring efficiency and effectiveness across all departments.
Develop and implement operational strategies, policies, and procedures to drive business growth and profitability.
Collaborate with the CEO and other executives to define the company's strategic direction and long-term goals.
Drive continuous improvement initiatives to optimize operational processes and enhance productivity.
Lead and develop a high-performing team, fostering a culture of collaboration, innovation, and accountability.
Monitor key performance indicators (KPIs) to track operational performance and make data-driven decisions.
Identify and mitigate operational risks, ensuring compliance with regulatory requirements and industry standards.
Build and maintain strong relationships with key stakeholders, including clients, vendors, and partners.
Stay abreast of industry trends, market dynamics, and competitive landscape to inform strategic decision-making.
Represent the company in meetings, conferences, and industry events as a knowledgeable and influential leader.
Requirements
Bachelor's Degree in Business Administration, Management, or a related field (MBA preferred)
5 years experience as a COO
Good knowledge of tech, IT/Business infrastructure,· HR, Finance, marketing, etc.
Proven experience as a Chief Operating Officer or in a similar senior leadership role.
Strong business acumen and a strategic mindset, with the ability to translate vision into actionable plans.
Excellent leadership and people management skills, with a track record of building high-performing teams.
Exceptional communication and interpersonal abilities, with the aptitude to collaborate effectively across all levels of the organization.
Demonstrated experience in driving operational efficiency, process improvement, and change management.
Financial literacy and the ability to analyze complex data to inform decision-making.
Proven track record in driving business growth and delivering results in a small business environment.
Strong ethical standards and a commitment to fostering a diverse and inclusive workplace.
Ability to thrive in a fast-paced, dynamic environment with a hands-on approach.
Reliably commute or planning to relocate to Abuja before starting work (Required).
Application Closing Date
Not Specified.
How to Apply
Interested and qualified candidates should send their CV to: cv@ascentech.com.ng using "COO – Abuja" as the subject of the mail.
If you think this job post can be helpful to someone else, please share it on Facebook, Twitter, WhatsApp, LinkedIn or Telegram using the buttons below. Thank you