Mercy Corps is a leading global organization powered by the belief that a better world is possible. See more Mercy Corps Nigeria Job vacancies Here >>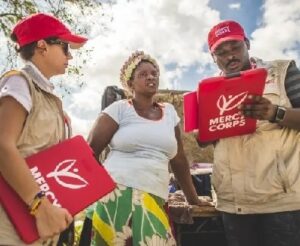 Mercy Corps Nigeria recruitment is to fill the position below:
Job Title: Ethics and Assurance Coordinator
Requisition Number: ETHIC003937
Location: Abuja (FCT)
Employment Type: Full-time
Job Category: Finance & Compliance
Program / Department Summary
Mercy Corps has been present in Nigeria since 2012, focusing its interventions on humanitarian assistance, economic development, and conflict mitigation. With the ongoing insurgency in Northeast Nigeria causing the displacement of millions of individuals, Mercy Corps started its humanitarian response in 2014 to address the rising humanitarian needs.
As the crisis has persisted, Mercy Corps' strategy has also expanded to address the root causes of the conflict and seek to build the long-term resilience of communities with integrated programs focusing on governance, the recovery of markets and livelihoods, social cohesion and social protection, youth empowerment, and local conflict management.
The Nigeria country program has grown considerably over the last few years and is now the fifth largest Mercy Corps country program, with a mixed grant & programming portfolio.
Also Apply For Ecobank Nigeria Recruitment (3 Positions)
General Position Summary
The Ethics & Assurance Coordinator will support the Ethics and Assurance Director to serve as the Mercy Corps Nigeria focal point for ensuring compliance with Mercy Corps' Code of Ethics, policies, and procedures.
He/she will support the Director to examine, review, and analyze records, reports, financial information, and management practices to ensure compliance with laws, regulations and Mercy Corps' policies and procedures and will investigate potential violations of the Code of Ethics.
The Ethics & Assurance Coordinator will work closely with the Ethics and Assurance Director to assist the country management team in developing, implementing and monitoring effective financial and operational controls over activities and offices to mitigate risk.
Essential Job Responsibilities
Following Mercy Corps' policies and procedures, Support the Ethics and Assurance Director in the internal reporting of any allegations of Code of Ethics violations, including fraud, corruption, bribery or human trafficking.
Support the Ethics and Assurance Director to maintain the country's Corruption Incident Register and liaise with the Headquarters Ethics team, and other teams as needed, in the resolution of all reported incidents.
Support the Ethics and Assurance Director to collect, analyse and document the results of investigations and communicate observations and recommendations with the collaboration of the Country Director and senior management team, as appropriate.
Liaise with program teams in implementing the country Complaints Response Mechanism (CARM). Respond to Code of Ethics violation referrals received through the CARM.
Support the Ethics and Assurance Director to assist the country management team in determining effective and efficient solutions to operational issues that ensure compliance with Mercy Corps' policies and donor regulations; mitigate the risk of fraud or corruption and facilitate the achievement of program objectives.
Support the Ethics and Assurance Director to assist program, operations and finance teams with implementing standard procedures or, as necessary, developing and documenting enhanced procedures for high-risk program activities, in particular, those providing a direct financial benefit to participants (e.g. vouchers, cash distributions), requiring high-value procurement, or the distribution of in-kind goods.
Support in maintaining the country-level risk register to identify key risks and document strategies to mitigate these risks. Manage the quarterly update process and ensure communication of action plans.
Perform periodic internal control reviews of in-country financial, procurement, human resource, and logistics procedures in both the main country office and field offices. In coordination with program and monitoring and evaluation staff, conduct field reviews of program activities to ensure that adequate controls are in place and are functioning properly. Communicate findings and work with the relevant departments to correct weaknesses and improve controls as needed.
Development of monitoring plans for partners, including sub-recipients, key vendors and other partners that must adhere to ethics policies. In coordination with relevant teams, perform periodic compliance reviews of partners.
Support the Ethics and Assurance Director with the follow-up and resolution of external audit or Mercy Corps Internal Audit findings.
Perform other related special projects and duties as determined and assigned by the supervisor.
Organizational Learning:
As part of our commitment to organizational learning and in support of our understanding that learning organizations are more effective, efficient and relevant to the communities they serve – we expect all team members to commit 5% of their time to learning activities that benefit Mercy Corps as well as themselves.
Accountability to Beneficiaries
Mercy Corps team members are expected to support all efforts towards accountability, specifically to our beneficiaries and to international standards guiding international relief and development work, while actively engaging beneficiary communities as equal partners in the design, monitoring and evaluation of our field projects.
Supervisory Responsibility:
Accountability
Reports and works Directly To: Ethics and Assurance Director.
Knowledge and Experience
A B.Sc. University Degree in Finance, Accounting or any other related field is required. MBA/MSc in a relevant field will be an added advantage.
ACCA, ICAN or other relevant qualifications are desirable.
Minimum of four (4) years working experience in a non-profit organization implementing international programs or other corporate organizations.
Minimum of four (4) years experience in internal audit, risk and compliance, internal controls or Ethics and Assurance.
Minimum of three (3) relevant experience in fraud investigation. Certified Fraud Examiner (CFE) or Certified Internal Auditor (CIA) are desirable.
Understanding of a wide range of ethics violations, including fraud, corruption, and human trafficking in humanitarian and/or development settings; Understanding of best practices in ethics management and accountability within INGOs, including best practices for investigations of ethical violations.
Good communication and interpersonal.
Computer skills in MS Office programs, particularly Word, Excel, and PowerPoint.
Good presentation skills.
Excellent report writing skills.
Fluent written and oral communication in English
Understanding of Hausa language will be an added advantage.
Willingness to travel to remote areas (deep field) for reviews.
Ability to work effectively with an ethnically diverse team in a sensitive environment.
Success Factors
The successful Ethics & Assurance Coordinator will possess an exemplary professional standard of ethics as well as the willingness and ability to enforce compliance with Mercy Corps' internal policies and procedures and external regulations.
Excellent communication and interpersonal skills to interact effectively with internal and external stakeholders on sensitive and confidential matters is necessary along with the ability to navigate difficult circumstances with a calm demeanour, in an analytical and methodical manner.
A demonstrated ability to multi-task, meet deadlines and process information in support of changing program activities is necessary.
A broad understanding of humanitarian and development programs coupled with the ability to analyze financial operational data and clearly present conclusions and recommendations is essential.
The humanitarian objectives of Mercy Corps' programs may require flexibility in working hours and frequent travel to field offices, program sites and sub-recipient locations.
Mercy Corps Team members represent the agency both during and outside of work hours when deployed in a field posting. Team members are expected to conduct themselves in a professional manner and respect local laws, customs and Mercy Corps policies, procedures, and values.
Living Conditions / Environmental Conditions:
The coordinator is based in the capital city, Abuja. Housing, health care, water, electricity, and consumer goods are all reasonably accessible and there are good international and domestic travel options from Abuja Airport.
Air travel is necessary to reach some field locations. Mobile phone services are widely available. Internet is available in all Mercy Corps offices and Guest Houses with some inconsistencies in the most remote sites.
This position requires travel by air and road to field offices. Mercy Corps team members represent the agency both during and outside work hours when deployed in a field posting or on a visit/STA to a field posting.
Team members are expected to conduct themselves in a professional manner and respect local laws, customs and MC's policies, procedures, and values always and in all in-country venues.
Fostering a diverse and open workplace is an important part of Mercy Corps' vision. Mercy Corps is an Equal Opportunity Employer regardless of background. We are committed to creating an inclusive environment.
Diversity, Equity & Inclusion:
Achieving our mission begins with how we build our team and work together. Through our commitment to enriching our organization with people of different origins, beliefs, backgrounds, and ways of thinking, we are better able to leverage the collective power of our teams and solve the world's most complex challenges.
We strive for a culture of trust and respect, where everyone contributes their perspectives and authentic selves, reaches their potential as individuals and teams, and collaborates to do the best work of their lives.
We recognize that diversity and inclusion is a journey, and we are committed to learning, listening and evolving to become more diverse, equitable and inclusive than we are today.
Equal Employment Opportunity:
Mercy Corps is an equal-opportunity employer that does not tolerate discrimination on any basis. We actively seek out diverse backgrounds, perspectives, and skills so that we can be collectively stronger and have a sustained global impact.
We are committed to providing an environment of respect and psychological safety where equal employment opportunities are available to all.
We do not engage in or tolerate discrimination on the basis of race, colour, gender identity, gender expression, religion, age, sexual orientation, national or ethnic origin, disability (including HIV/AIDS status), marital status, military veteran status or any other protected group in the locations where we work.
Safeguarding & Ethics:
Mercy Corps is committed to ensuring that all individuals we come into contact with through our work, whether team members, community members, program participants or others, are treated with respect and dignity.
We are committed to the core principles regarding the prevention of sexual exploitation and abuse laid out by the UN Secretary-General and IASC and have signed on to the Interagency Misconduct Disclosure Scheme.
We will not tolerate child abuse, sexual exploitation, abuse, or harassment by or of our team members. As part of our commitment to a safe and inclusive work environment, team members are expected to conduct themselves in a professional manner, respect local laws and customs, and adhere to the Mercy Corps Code of Conduct Policies and values at all times.
Team members are required to complete mandatory Code of Conduct e-learning courses upon hire and on an annual basis.
Application Closing Date
28th July, 2023.
Method of Application
Interested and qualified candidates should:
Click here to apply online
Note
Applicants should have their CVs and Cover Letters in one document addressing the position requirements.
Female candidates who are qualified are strongly encouraged to apply.
If you think this job post can be helpful to someone else, please share it on Facebook, Twitter, WhatsApp, LinkedIn or Telegram using the buttons below. Thank you