World Health Organization (WHO) is the directing and coordinating authority for health within the United Nations system. See more World Health Organization Job vacancies Here >>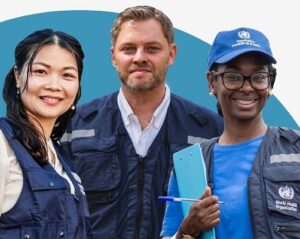 World Health Organization Recruitment is to fill the position below:
Job Title: Polio Eradication Program (PEP) Team Lead
Job ID: 2307416
Location: Abuja
Grade: P5
Schedule: Full-time
Organization: AF_NGA Nigeria
Contractual Arrangement: Fixed-term appointment
Contract Duration (Years, Months, Days): Two (2) years
Purpose of the Position
The Polio Eradication Program (PEP) Team Lead is responsible for the overall management of the operational response to the poliovirus outbreak/event in collaboration with health authorities and other health partners.
The PEP Team Lead represents the GPEI at the national level working together with partners nationally and internationally.
Job Description
Objectives of the Programme and of the immediate Strategic Objective:
The Polio Eradication Program (PEP) seeks to ensure that future generations of children will be free from the threat of polio paralysis.
Achieving this goal depends on interrupting poliovirus transmission and on ensuring rapid and effective responses to poliovirus outbreaks occurring in Nigeria This will be done in line with the recently revised Standard Operating Procedures (SOPs) for responding to a poliovirus event or outbreak developed by GPEI.
It also seeks to coordinate technical support to the country in the control of PEP/GPEI, provide support for human resource capacity building related to planning, prevention, monitoring and monitoring and evaluation of implementation plans programs in collaboration with, IST, Regional Office and Headquarters.
Organizational Context
Under the direct supervision of the WR and overall guidance of the PEP Coordinator/AFRO, as well as the technical and programmatic guidance of GPEI / IST & AFRO and in collaboration with the other country office program officers, the incumbent will plan, develop and implement programs and activities for PEP, including disease consultation, investigation, training and counselling.
It coordinates and supervises independently, within the framework of defined objectives, the programs of the PEP cluster of the country office.
S/He fulfils all other related tasks assigned. Within the scope of work defined by regional strategies, policy guidelines, and Programme objectives, and under the guidance of the WR, AFRO PEP Coordinator and the Regional Director, the incumbent functions as the unit's leader and primary representative, with the leeway to modify and adapt existing guidelines and recommend new initiatives with a high degree of judgment, discretion and operational freedom.
The aforementioned guidelines include the WHO Country Cooperation Strategy, General Programme of Work, World Health Assembly, Executive Board and Regional Committee for the Western Pacific resolutions, WHO Policy and Procedures Handbook, and information circulars and administrative instructions.
The incumbent focuses on policy guidance and integration with other programme areas, cultivates networks with contacts both inside and outside the team and division, throughout WHO at large.
Summary of Assigned Duties
Represent the GPEI in-country and liaise between the GPEI and partners at county and regional level; provide direct feedback to the GPEI about outbreak response progress, challenges and potential solutions.
Support heads of WHO country office with strategic and operational oversight of polio outbreak response operations, ensuring that they address the needs of the population and are aligned with the government/Ministry of Health (MOH) plans and strategies and the polio outbreak response SOPs.
Lead and guide Team A and Team B on outbreak response strategies and technical oversight of the response activities.
Foster close coordination with MOH, in-country health and other partners, and regional offices and HQs and assist in the organization of regular coordination meetings, teleconferences, and updates.
Work with MOH/WHO/UNICEF teams to develop a national outbreak response plan, including a budget, chronogram of activities, and human resources (HR) surge plan, periodically adjusting and adapting the plan, as needed.
Collaborate with MOH/WHO/UNICEF teams to establish outbreak response structures that include the four components of outbreak response: outbreak investigation, outbreak response immunization, strengthening AFP surveillance, and strengthening routine immunization.
Collaborate with MOH/WHO/UNICEF teams to produce updates of outbreak response activities (e.g., SITREPS, bulletins, and newsletters) for distribution to relevant partners.
Collaborate with MOH/WHO/UNICEF teams to organize periodic external outbreak response assessments.
Collaborate with MOH/WHO/UNICEF teams to document the closure of the outbreak.
Collaborate with MOH/WHO/UNICEF teams to assess the security situation in the geographic areas included in the response; as necessary, engage appropriate partners to discuss special strategies and resources for insecure areas.
Collaborate with the communications team to ensure the preparation of an overall outbreak response communication plan and the appropriate content of advocacy and messaging strategies.
Collaborate with the Outbreak Operations Manager to ensure that the logistical aspects of the outbreak response, especially financing and HR, are managed with optimal efficiency.
Review and clear donor products and provide strategic guidance on resource mobilization and proposal development.
Undertake other assignments and responsibilities as requested by heads of country office, regional director, and other partners to support the successful response to the outbreak.
Perform any other duty assigned
Recruitment Profile
Education Qualifications
Essential:
Advanced University Degree (Master's or Higher) in a health-related field (Medicine or Health).
Desirable:
Advanced Degree in Medicine / Public Health / communicable diseases. Higher Diploma in Epidemiology.
Doctorate in Medicine will be desirable.
Experience
Essential:
At least ten (10) years of progressively responsible professional experience in disease management focusing on the areas of investigation, surveillance and control, as well as strategy formulation and action plans for the implementation of disease prevention programs.
Good international and / or regional professional experience in providing technical advice and services to national counterparts and other partners in addressing communicable and non-communicable diseases.
Desirable:
Experience working with bilateral or multilateral organizations would be an asset
Competencies – Generic:
Select up to two additional core, management and leadership competencies. See the Enhanced WHO Global Competency Model Guidelines:
Teamwork
Respecting and promoting individual and cultural differences
Communication
Producing results
Building and promoting partnerships across the organization and beyond
Competencies – Management:
For  all  Positions  that  possess  Managerial/Supervisory  responsibilities,  an  additional mandatory Management Competency is required:
Is this a Supervisory Position?  Yes
Creating an empowering and motivating environment
Functional Knowledge and Skills:
In-depth knowledge of the country's situation regarding PRP/GPEI; good understanding of the needs, priorities and policies of Nigeria, as well as WHO policies, practices, guidelines and procedures in related areas and ability to apply them in the country office.
Ability to identify problems, formulate arguments and opinions, formulate conclusions and recommendations.
Ability to review and revise policies and objectives of the program and assigned activities.
Excellent knowledge of health and safety regulations and technical aspects of the specialty area.
Public speaking techniques.
Excellent writing and communication skills.
Commitment to implement the goal of gender equality by ensuring equal participation and full participation of women and men in all aspects of work.
Ability to lead and effectively manage a team;
Ability to develop innovative approaches and solutions;
Ability to demonstrate effective interpersonal skills by working well as a member of a team, adapting to educational, socio-political and cultural diversities
Ability to maintain a high level of personal conduct.
Languages:
English: Expert knowledge
Other Skills (e.g. IT):
Excellent knowledge of Microsoft Office applications.
Application Closing Date
30th August, 2023; 9:59:00 PM
How to Apply
Interested and qualified candidates should:
Click here to apply online
Important Notice: Please note that the deadline for receipt of applications indicated above reflects your personal device's system settings.
If you think this job post can be helpful to someone else, please share it on Facebook, Twitter, WhatsApp, LinkedIn or Telegram using the buttons below. Thank you