World Health Organization (WHO) is the directing and coordinating authority for health within the United Nations system. See more World Health Organization Job vacancies Here >>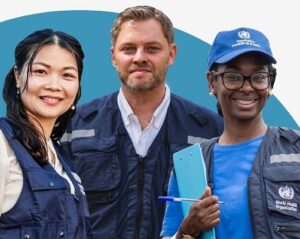 World Health Organization Recruitment is to fill the position below:
Job Title: Human Resources Assistant
Job ID: 2307182
Location: Abuja, Nigeria
Grade: G7
Schedule: Full-time
Organization: AF_NGA Nigeria
Contractual Arrangement: Fixed-term appointment
Contract Duration (Years, Months, Days): 24 months
Purpose of the Position
Within the Country Management Support Unit, to provide administrative support in HR related matters to the WCO, and other states in the WHO Country Office/Nigeria, verify for correctness and conformity with Staff Rules and WHO Manual, all operations involved in processing recruitments, positions mapping, contract extensions/renewals, etc.
Job Description
Objectives of the Programme and the immediate Strategic Objectives:
Country Management Support Units (CSUs) have been established in the organizational structure to provide support for Managers and staff to fully assume their responsibilities in the GSM environment and to ensure compliance with organizational policies, procedures, rules and regulations on all administrative and financial matters and transactions in the context of an Enterprise Resource Planning (ERP) system.
Organizational Context
Incumbent is expected to work with minimum supervision, in accordance with established procedures and practices, dealing with routine matters independently and referring problems or unusual situations to supervisor.
Broad guidance is provided by supervisor or other professional staff or through general objectives and instructions regarding resource allocation, divisions/programmes needs and priorities.
WHO Staff Rules and Regulations, WHO e-Manual, Information notes, SOPs, established financial procedures, practices and standards, guidelines for briefing/informing staff members.  The incumbent is expected to apply the above to financial transactions.
Summary of Assigned Duties
The incumbent will work under the overall supervision of the Operations Officer and the guidance and direct supervision of the Human Resources Officer in the WHO Country Office.
The incumbent performs the following functions:
Perform the administration and operational requirements of all selection and recruitment formalities for fixed and short-term staff in the professional and general services categories including drafting vacancy notices; advise and assist technical staff in the preparation of submissions for selection for approval; ensure all arrangements for interviewing and testing of prospective staff are made appropriately; and oversee the recruitment process and selections process;
Carry out pre -recruitment and onboarding formalities in timely manner and in according with rules and regulations;
Review post descriptions for new, vacant or revised positions against existing post descriptions; identifies changes to the post descriptions, bringing major changes to the attention of the HR Officer. Review requests for reclassification of General Service posts by preparing background documentation for action by the HR Officer;
Act as focal point for Staff Development and Learning activities and programs i.e. initiation and coordination of trainings, orientations, briefings of staff members in WCO, NGA;
Update information on all staff members, types of contracts and locations on monthly basis to ensure accuracy of information;
Timely initiate HRAPs for reassignments/redeployments/terminations and extensions of short-term and fixed term appointments at least 3 months before the expiry date ensuring that performance evaluation reports for staff are concluded and medical clearances are received timely;
Manage issuance of administrative documents i.e. ID Cards. Assist all staff to complete BSTF and ASITF training, update of staff list at the UN Dispensary;
Perform any other related duties/responsibilities as required.
Recruitment Profile
Educational Qualifications:
Essential: Completion of secondary education with training in Human Resources Management, Personnel Management, Public Administration.
Desirable: First University Degree in Human Resource Management, Business or Public Administration.
Experience:
Essential: At least 10 years' experience Human Resources Management in the INGO, private sector or Government.
Desirable: Relevant experience in the UN Agencies and/or NGOs is an advantage.
Competencies:
Communicating in a credible and effective way
Producing results
Fosters integration and teamwork
Moving forward in a changing environment
Respecting and promoting individual and cultural differences
Functional Knowledge and Skills:-
Ability to acquire sound knowledge of WHO rules, regulations and procedures especially regarding recruitments
Computer literacy especially proficiency in MS Word and MS Excel supplemented by GSM and reporting writing skills.
Ability to develop and maintain good relations with people of different nationalities at various levels.
Languages:
English: Expert Knowledge
Other Considerations: (e.g. Physical Workplace Condition, if other than normal office environment; IT Skills; etc.)
Computer literacy especially proficiency in MS Word and MS Excel supplemented by GSM and reporting writing skills.
Application Closing Date
24th August,2023 10:59:00 PM
How to Apply
Interested and qualified candidates should:
Click here to apply online
Important Notice: Please note that the deadline for receipt of applications indicated above reflects your personal device's system settings.
If you think this job post can be helpful to someone else, please share it on Facebook, Twitter, WhatsApp, LinkedIn or Telegram using the buttons below. Thank you