Cedarcrest Hospitals Ltd started as a mono speciality centre and was formerly known as Cedarcrest Orthopaedic Clinics Ltd. Within a few years the hospital expanded its scope of services and has become a leading private multispecialty hospital. The core vision of the organisation is to provide world-class specialist healthcare services to patients in Nigeria and the West African sub-region. Cedarcrest Hospitals Ltd currently has four hospitals located in Abuja, Lagos, Kainji and Jebba having over one hundred (100) bed capacity without patient camps in several other cities across Nigeria. Our services and facilities span several specialities and include emergency/trauma centre, radiology diagnostic centre, prosthetic manufacturing plant, oxygen manufacturing plant, modular surgical operating theatres, gastrointestinal endoscopy suite and several other facilities that make for a modern multispecialty hospital. Join Cedarcrest Hospitals Limited careers team today, and be part of our success story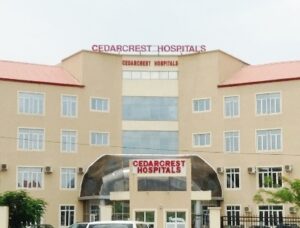 Cedarcrest Hospitals Limited recruitment is to fill the position below:
Job Title: Medical Officer
Job Ref.: CHL/LG/HR/2023/01/JAD-MO/ 01
Location: Victoria Island, Lagos
Role Reports to: Family Physician
Purpose of the Role
The Medical Office will perform their clinical and administrative duties and assist the physicians, and other consultants and nursing team to provide clinical guidance to patients under their care in terms of medical support.
You will also assist in planning, managing, and organizing medical activities and administrative functions for their various wards.
You will also take an active role in overseeing the medical care of patients and the functions performed by other medical staff. You may also help assess and diagnose needs and plans of action for individual and families.
Key Performance Areas
Assess patient's condition, maintaining clinical notes, and taking the necessary actions;
Prescribe medicines as he sees fit and advise patients based on their conditions to ensure the highest possible standards of patient care needed;
Perform urgent medical services like stabilization, assessment and diagnosis, and/or immediate resuscitation when necessary, and perform treatment and referral to a specialist if necessary;
Recommends treatment options for appropriate intervention and procedure like minor surgeries when necessary and prescribing medicines,
Advises and educates patients through counselling or psychological interventions;
Establishes and maintains teamwork and cooperation with other health care providers to ensure patients receive maximum benefit from coordinated care;
Examines and reviews patients at the request of consultants, initiate treatment as necessary, and inform consultants of any changes in the condition of patients; and
Keeps track of new developments in the field of medicine and corresponding literature, skills, and technology to respond to changes in medical procedures and work environment.
Monitoring and administering medication
Assessing and planning treatment requirements
Writing reports and maintaining records
Ensure ongoing continuous medical education is maintained at least at the level required to ensure ongoing accreditation through the maintenance of professional standards of MDCN.
Ensuring receipt of hand-over reports on patients from the alternative Medical Officer when commencing duty or handing over clinical notes and instructions before ending ones' shift
Attending to all post-operative patients on day of operation and every day following.
Ensure all patient services undertaken are carried out in accordance with appropriate protocolsAny
other duties as may reasonably be required.
Education, Certification and Experience Requirements
MBBS or equivalent
Candidates must possess NYSC discharge Certificate or Exemption letter. Proficient with
3 – 5 years of prior experience
Certification – Medical and Dental Council of Nigeria; Certificate of Practicing License.
Profile Requirements:
Proficiency with the use of the computer.
Healthcare Management Systems and Microsoft Office Suite
Outstanding communication skills, both written and verbal
Excellent organizational and multi-tasking skills
Leadership ability.
Innovative ideas to move the practice forward.
Great interpersonal skills, and ability to communicate compassionately
Highly motivated team player willing to go the extra mile
This job description is not exhaustive and will evolve as the Company's organizational needs change.
Application Closing Date
25th July, 2023.
How To Apply:
Interested and qualified candidates should send their CV and Cover Letters in PDF to: careers@cedarcresthospitals.com using the Job Title as the subject of the email.
If you think this job post can be helpful to someone else, please share it on Facebook, Twitter, WhatsApp, LinkedIn or Telegram using the buttons below. Thank you