Mercy Corps is a leading global organization powered by the belief that a better world is possible. See more Mercy Corps Nigeria Job vacancies Here >>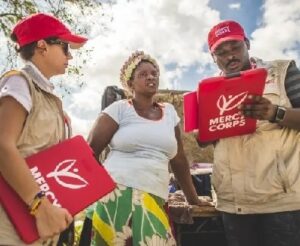 Mercy Corps Nigeria recruitment is to fill the position below:
Job Title: M&E and Database Assistant
Requisition Number: MEAND003940
Location: Abuja (FCT)
Employment Type: Full-time
Job Category: Monitoring & Evaluation
Supervisory Responsibility: None
Reports Directly To: Senior MEL Manager.
Works Directly With: Partner staff, M&E Specialist, Program Manager, Program Officers, Gender team, CLA Officer, and Communications Officer.
Program / Department Summary
The U.S. Agency for International Development (USAID) has launched one of its most comprehensive peacebuilding programs in Nigeria to date with Mercy Corps, a leading global humanitarian aid and development organization, which has been working with communities in Nigeria since 2012.
The goal of the Community Initiatives to Promote Peace (CIPP) program, which commences in 2019, is to prevent violent conflict in the most at-risk communities across 6 states and 24 local government areas (LGA) in Nigeria's Northwest and North Central regions.
CIPP builds on the accomplishments and deep contextual knowledge gained by USAID and Mercy Corps through their previous peacebuilding programs in Nigeria. Mercy Corps' strategy has also expanded to address the root causes of the conflict and seek to build the long-term resilience of communities with integrated programs focusing on governance, protection of the vulnerable population, social cohesion, the inclusion of women, youth, and persons living with disabilities, and local conflict management.
The CIPP program is implemented in six North Central & North-Western Nigerian states: Benue, Plateau, Kogi, Kaduna, Kano and Katsina. Since 2019 is strategically building on the past four years of the Mercy Corps' former peacebuilding programs to:

Improve local capacity and skills to manage disputes
Strengthen and enable more sustainable Early Warning and Early Response (EWER) mechanisms
Increase collaboration among communities with government agencies, CSOs, and local leaders to address root causes of conflict
Strengthen women's capacities to prevent and resolve conflict
Improve ability to address violent extremist recruitment tactics.
General Position Summary
The M&E ICT, Database Assistant will work with the MEL Unit as part of a team to operationalize and improve the MEL system, which heavily relies on a well-managed CIPP database.
The Database Assistant is responsible for supporting Mercy Corps staff and local partners to regularly collect/ enter/ verify/analyze/ data and make timely database adjustments to measure the impact of Mercy Corps' programs.
S/he will directly work with the Senior M&E Officer & Senior MEL Manager who are the point of contact for all Mercy Corps field staff regarding M&E support needs and operational issues.
The Assistant will also closely coordinate with the Program team, CLA Officer and Communications Officer to help ensure monitoring and evaluation data is accurately incorporated into all reports, learning and information products.
Essential Job Responsibilities
Understand, maintain, and innovate an M&E system database (MIS) that improves Mercy Corps' ability to inform program implementation, analyze data, and represent impact to USAID, the Government, colleague agencies, and communities themselves.
Support the M&E Officer to ensure all relevant program staff can utilize the database to analyze program information and results
Support the M&E team in the design, adaptation and maintenance of the MIS in conjunction with the Communications Officer to match strategic program or implementation change(s).
Support the facilitation of training on the use of a database, pivot tables and pivot charts to staff members that require it, or support on exporting to MS Excel for data analysis.
Ensure the database is live and accessible to field offices.
Support the review of data entries in the database regularly to troubleshoot and fix problems with data entry or integrity.
Document system database content, protocols and update manuals for smooth functioning.
Implement the M&E Systems and Tools:
Work as part of a team to facilitate and support M&E operations including baseline, annual, and end-line surveys, regular monitoring, data collection and analysis, feedback and reporting according to the MEL work plan.
Support generation of data (tables/graphs/reports) from the database at regular intervals, ensuring reports/information are available for program implementation staff when required. Facilitate data analysis with the program implementation team as requested.
Conduct regular field visits to ensure all elements of the M&E system and database are being utilized effectively by all stakeholders, assessing and identifying breakdowns and areas that require clarifications and improvements.
Ensure field teams always have the most recent version of all M&E tools and documents.
Staff Training and Capacity Building:
Work closely with the Senior MEL Manager to develop and deliver staff/partner training, improving capacities in monitoring and evaluation and database management: data collection, entry, verification and analysis; and other identified needs.
With guidance from the Senior MEL Manager, he/she will follow up on training by mentoring staff/partners to develop identified technical skills one-on-one.
Link M&E Results to Reporting:
Support the review or edit of data in reports as requested and required.
Support the production of analytical summaries: graphs, charts, and tables as requested to fulfil reporting requirements
Conduct self both professionally and personally in such a manner as to bring credit to Mercy Corps and not jeopardize its peacebuilding mission in Nigeria
Work closely with the CLA Officer to ensure that all learnings are documented and can be visualized.
Other duties as assigned and agreed upon.
Information Management:
Works with the M&E team to program all data collection tools on Commcare.
Work closely with the Senior MEL Manager to manage the Tola Data system.
Finance & Compliance Management:
Ensure compliance with donor and Mercy Corps regulations related to peace and conflict programming.
Security:
Ensure compliance with security procedures and policies as determined by country leadership.
Proactively ensure that team members operate in a secure environment and are aware of policies.
Organisational Learning:
As part of our commitment to organizational learning and in support of our understanding that learning organizations are more effective, efficient, and relevant to the communities they serve, we expect all team members to commit 5% of their time to learning activities that benefit Mercy Corps as well as themselves.
Accountability To Beneficiaries:
Mercy Corps team members are expected to support all efforts toward accountability, specifically to our beneficiaries and to international standards guiding international relief and development work, while actively engaging beneficiary communities as equal partners in the design, monitoring and evaluation of our field projects.
Ethics and Integrity:
All Mercy Corps staff members are expected to behave ethically and demonstrate highest integrity in their professional and personal life.
Mercy Corps have zero tolerance for any form of fraud, corruption, abuse, harassment or exploitation. Any breach of our policies will lead to disciplinary action or may lead to termination.
Knowledge and Experience
BA/S or equivalent from a recognized institution, preferably in Statistics, Economics, MS Access, IT/Database Management, or Administration
Microsoft certification is preferred.
1-3 years experience supporting the management or design of M&E MS Access databases, knowledge of Sharepoint, MySQL, and VBA a plus.
Excellent quantitative skills and power users with Excel; Experience with Access, Commcare and statistical packages including Stata, R or SPSS and GIS tools like QGIS, ArcGIS or Google Earth.
Demonstrated skills in training, capacity building, and mentoring.
Good basic math and analytical skills as well as a general knowledge of statistical or monitoring and evaluation principles.
Former experience in field survey/data collection techniques, data entry, data verification, and analysis is beneficial.
Fluency in spoken and written English & Hausa preferred.
Computer literacy in MS Access and other MS Office packages including Excel, and PowerPoint is essential
Willingness to travel to all CIPP field offices regularly
Demonstrated attention to detail, ability to follow procedures, meet deadlines and work independently and cooperatively with team members.
Success Factor:
The ideal candidate will have a strong curiosity for understanding and working effectively within the complex cultural, political, security and social environment of Nigeria.
S/he will be an excellent communicator, multi-tasker, and able to work in ambiguous situations. S/he will be a tolerant and flexible individual able to work in difficult and stressful environments and follow procedures.
The successful candidate will be a design thinker, have strong skills in design monitoring and evaluation of development programs and maintain a sense of humour.
Living Conditions / Environmental Conditions:
The position is based in Abuja with about 30 – 40% travelling to project locations. Mercy Corps team members represent the agency both during and outside work hours.
Team members are expected to conduct themselves in a professional manner and respect local laws, customs, and MC's policies, procedures, and values at all times and in all locations.
Diversity, Equity & Inclusion:
Achieving our mission begins with how we build our team and work together. Through our commitment to enriching our organization with people of different origins, beliefs, backgrounds, and ways of thinking, we are better able to leverage the collective power of our teams and solve the world's most complex challenges.
We strive for a culture of trust and respect, where everyone contributes their perspectives and authentic selves, reaches their potential as individuals and teams, and collaborates to do the best work of their lives.
We recognize that diversity and inclusion is a journey, and we are committed to learning, listening and evolving to become more diverse, equitable and inclusive than we are today.
Equal Employment Opportunity:
Mercy Corps is an equal-opportunity employer that does not tolerate discrimination on any basis. We actively seek out diverse backgrounds, perspectives, and skills so that we can be collectively stronger and have a sustained global impact.
We are committed to providing an environment of respect and psychological safety where equal employment opportunities are available to all.
We do not engage in or tolerate discrimination on the basis of race, colour, gender identity, gender expression, religion, age, sexual orientation, national or ethnic origin, disability (including HIV/AIDS status), marital status, military veteran status or any other protected group in the locations where we work.
Safeguarding & Ethics:
Mercy Corps is committed to ensuring that all individuals we come into contact with through our work, whether team members, community members, program participants or others, are treated with respect and dignity.
We are committed to the core principles regarding the prevention of sexual exploitation and abuse laid out by the UN Secretary-General and IASC and have signed on to the Interagency Misconduct Disclosure Scheme.
We will not tolerate child abuse, sexual exploitation, abuse, or harassment by or of our team members. As part of our commitment to a safe and inclusive work environment, team members are expected to conduct themselves in a professional manner, respect local laws and customs, and adhere to the Mercy Corps Code of Conduct Policies and values at all times.
Team members are required to complete mandatory Code of Conduct e-learning courses upon hire and on an annual basis.
Application Closing Date
28th July, 2023.
How To Apply:
Interested and qualified candidates should:
Click here to apply online
Note
Applicants should have their CVs and Cover Letters in one document addressing the position requirements.
Female candidates who are qualified are strongly encouraged to apply.
If you think this job post can be helpful to someone else, please share it on Facebook, Twitter, WhatsApp, LinkedIn or Telegram using the buttons below. Thank you