Mercy Corps is a leading global organization powered by the belief that a better world is possible. See more Mercy Corps Nigeria Job vacancies Here >>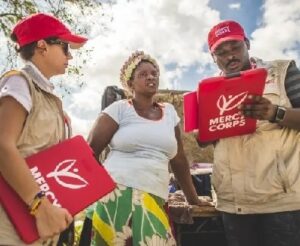 Mercy Corps Nigeria recruitment is to fill the position below:
Job Title: Data Management Officer
Requisition Number: DATAM003912
Location: Maiduguri, Borno
Employment Type: Full-time
Job Category: Monitoring & Evaluation
Program / Department Summary
Mercy Corps exists to alleviate suffering, poverty, and oppression by building secure, productive, and just communities. Mercy Corps has been present in Nigeria since 2012, focusing its interventions on adolescent girls' empowerment, economic development, and conflict mitigation.
With the insurgency spilling over from the northeast of Nigeria and causing the displacement of millions of individuals, Mercy Corps has decided to address the rising humanitarian needs among displaced households and vulnerable host communities by starting its humanitarian program in July 2014. Mercy Corps Nigeria's humanitarian program aims to provide assistance to populations affected by the crisis in northeast Nigeria.
The humanitarian program has been focusing on food assistance, non-food items distribution, protection, livelihood support, WASH, and capacity building of humanitarian response actors. Mercy Corps plans to scale up and expand its humanitarian response in northeast Nigeria to reach more beneficiaries with additional and varied assistance in a wider geographic area.
In addition to humanitarian programs, Mercy Corps also implements adolescent girls' and boys' empowerment and youth engagement programs. All Mercy Corps interventions in Nigeria are implemented in a conflict and gender-sensitive manner.
General Position Summary
The Data Management Officer (DMO) will be responsible for supporting the Senior Data Management Officer (SDMO) with all data management functions including data collection instrument development, data collection, data analysis, Tola data update, and preparation of internal and external DQAs.
S/he will work closely with MEL and program teams in his/her routine tasks for data consolidation. S/he will be responsible for the validation of data verified by the MEL Officers at the desk and in the field under the supervision of the Senior Data Management Officer.
Essential Job Responsibilities
Data Planning and Design:
Support the Senior Data Management Officer (SDMO) to establish Data Quality and Management protocols, data plans and data procedures for BEGE and NE-NORE program.
Support in the design of digital data collection tools, and plan for primary data collection.
Support in the collection, and migration of data to/from a range of internal and external data management systems like Commcare, and ONA.
Support with the Manipulation and linkage of different data sets as required.
Support in performing database queries across multiple tables to extract data for analysis.
Data Management:
Support in the filing of data on Google Drive/Team Drive, as well as offline back-ups of BEGE and NE-NORE.
Support the allocation and management of data-collection devices, ensuring that data-collection needs are met across BEGE and NE-NORE.
Support with the development of the automated Indicator performance tracking table (IPTT) and Indicator plan matrix.
Support in the Record /compile, clean, analyze and maintain the program database ensuring one-on-one status update.
Support in the coordination of program data to generate and collect required information and data, ensuring accuracy and adherence to protocols, in the process of measuring results.
Support in the Monthly quality checks, and data verification of program data.
Support in the data entry on Tola for BEGE and NE-CORE.
Data Analysis and Reporting:
Support the Senior Data Management Officer (SDMO) in the analysis and timely dissemination of Post Distribution Monitoring and market price monitoring for Mercy Corps BEGE and NE-CORE Program.
Contribute to the development and coding of tools for assessments.
Contribute to methodologies for assessments, evaluations, and other MEL activities.
Work alongside the Senior Data Management Officer (SDMO) and MEL team to orient the programme and partner staff on qualitative and quantitative tools as per the activity's need.
Work alongside the Senior Data Management Officer (SDMO) and MEL team to train the programme and partner staff on mobile data collection under the supervision of the MEL Coordinator.
Support the review of data on the IPTT, Indicator drive and Tola.
Support the (SDMO) with the Creation of a Program Dashboard with the use of Power BI
Capacity Building:
Support the Senior Data Management Officer (SDMO) in the training of Mercy Corps staff on the use of MEL Technologies, such as ONA/ODK, Commcare, Power BI, Tableau, TOLA and Advance Excel.
As needed, support in the training and oversight of enumerators for data collection.
Additional Tasks:
Support with other tasks as required by the supervisor.
Internal And External Coordination:
Active contributor and collaborator with programs, sectors, regional and global counterparts to promote the use of learning best practices.
Strengthen linkages with other internal resources, including the Digital Library, Hub, and Connect, to enhance organizational learning where relevant.
Organizational Learning:
As part of our commitment to organizational learning and in support of our understanding that learning organizations are more effective, efficient, and relevant to the communities they serve we expect all team members to commit 5% of their time to learning activities that benefit Mercy Corps as well as themselves.
Accountability To Beneficiaries
Mercy Corps team members are expected to support all efforts toward accountability, specifically to our beneficiaries and to international standards guiding international relief and development work, while actively engaging beneficiary communities as equal partners in the design, monitoring, and evaluation of our field projects.
Accountability
Reports Directly To: Senior Data Management Officer.
Works Directly With: Response Director, Program Sector Managers, Program Managers/directors, Reporting & Communications Officers, Finance, and Operations teams. Coordinates with MCN PaQ unit (including CARM team).
Knowledge and Experience
BA/S Degree / HND in Computer Science, Data Science, Research Methods, Statistics, Economics, Social Sciences, Project Management and any other relevant field.
3+ years of progressive work experience in Data management, Database management, and development programming required with proven use of program technology.
Excellent computer skills (especially Microsoft Office applications) and ability to use information technology as a tool and resource.
Demonstrated experience with ICT for MEL, building or coding mobile data collection forms into XLSforms, including experience with Open Data Kit platforms such as ONA/ODK.
Demonstrated experience and Knowledge in the use of at least one Data collection software (Commcare preferable).
Should possess advanced Excel skills, use of advanced Excel formulas, use of Pivot table, and building of interactive dashboards.
Should possess advanced skills in the use of Database software. MS Access, Azure, SQL
Should be able to use Power queries to transform data, building interactive dashboards with Power Bi.
Demonstrated experience and Knowledge in the use of at least one indicator management software e.g. TOLA-Activity, Monitor, DIS, DHIS and demonstrate use.
Demonstrated experience and Knowledge in DQA and MEL system assessment processes.
Should have good knowledge of a MEL Plan, indicator plan matrix, and Indicator tracking table.
Should have good knowledge of the data management processes for MEL.
Demonstrated experience and Knowledge in performing quality checks, and data verification.
Ability to summarize and simplify complex information and communicate it to the targeted groups.
Experience with data management including the ability to structure and collate data sets for ease of analysis preferred.
Good command of English writing skills.
Previous experience in northeast Nigeria or a similar context is essential.
Success Factors:
The successful candidate should have experience and expertise in leading collaboration efforts and translating programmatic learning into adaptive programming.
They should also have a demonstrated ability to lead and communicate effectively with team members of varied work styles and cultures, follow procedures, and meet deadlines with flexibility and creativity in planning and problem-solving.
They should have a proven ability to learn quickly, multi-task, prioritize, take initiative, be accountable for results, understand the larger picture while remaining focused on the details, problem-solving, work within a complex and sensitive setting and follow laws and security protocols.
The most successful Mercy Corps team members have a strong commitment to teamwork and accountability, thrive in evolving and changing environments and make effective written and verbal communication a priority in all situations.
Diversity, Equity & Inclusion:
Achieving our mission begins with how we build our team and work together. Through our commitment to enriching our organization with people of different origins, beliefs, backgrounds, and ways of thinking, we are better able to leverage the collective power of our teams and solve the world's most complex challenges.
We strive for a culture of trust and respect, where everyone contributes their perspectives and authentic selves, reaches their potential as individuals and teams, and collaborates to do the best work of their lives.
We recognize that diversity and inclusion is a journey, and we are committed to learning, listening and evolving to become more diverse, equitable and inclusive than we are today.
Equal Employment Opportunity:
Mercy Corps is an equal-opportunity employer that does not tolerate discrimination on any basis. We actively seek out diverse backgrounds, perspectives, and skills so that we can be collectively stronger and have a sustained global impact.
We are committed to providing an environment of respect and psychological safety where equal employment opportunities are available to all.
We do not engage in or tolerate discrimination on the basis of race, colour, gender identity, gender expression, religion, age, sexual orientation, national or ethnic origin, disability (including HIV/AIDS status), marital status, military veteran status or any other protected group in the locations where we work.
Safeguarding & Ethics:
Mercy Corps is committed to ensuring that all individuals we come into contact with through our work, whether team members, community members, program participants or others, are treated with respect and dignity.
We are committed to the core principles regarding the prevention of sexual exploitation and abuse laid out by the UN Secretary-General and IASC and have signed on to the Interagency Misconduct Disclosure Scheme. We will not tolerate child abuse, sexual exploitation, abuse, or harassment by or of our team members.
As part of our commitment to a safe and inclusive work environment, team members are expected to conduct themselves in a professional manner, respect local laws and customs, and adhere to the Mercy Corps Code of Conduct Policies and values at all times. Team members are required to complete mandatory Code of Conduct e-learning courses upon hire and on an annual basis.
Application Closing Date
28th July, 2023.
How To Apply:
Interested and qualified candidates should:
Click here to apply online
Note
Applicants should have their CVs and Cover Letters in one document addressing the position requirements.
Female candidates who are qualified are strongly encouraged to apply.
If you think this job post can be helpful to someone else, please share it on Facebook, Twitter, WhatsApp, LinkedIn or Telegram using the buttons below. Thank you