MTN Nigeria's vision is to lead the delivery of a bold, new digital world to our customers and our purpose is to make Nigerian lives a whole lot BRIGHTER by delivering relevant, accessible, high-quality telecommunications solutions that put them in control. See more MTN Nigeria Job vacancies Here >>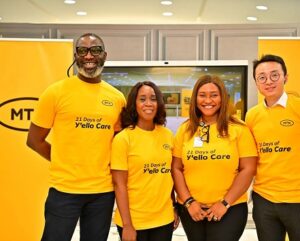 MTN Nigeria Job Recruitment is to fill the position below:
Job Title: Manager – Core Products and Services, Marketing
Job Identification: 3093
Location: Ikoyi, Lagos
Job Schedule: Full time
Job Category: MTN Level 3
Reports To: Senior Manager- Core Product and Services
Division: Marketing
Mission
To position MTN Nigeria at the forefront of technological innovation within the telecom's sector, through the development and support prepaid/postpaid services that will attract and retain customers, grow ARPU and create new revenue streams with focus on the mass market.
To develop and introduce of new, market-leading and/or enhanced prepaid/postpaid services in conjunction with 3rd parties where necessary using Agile methodology.
Description
Grow adoption and conversion on all owned digital platforms: e-Shop.
Fully integrate quality management processes and their effective deployment on a day-to-day basis.
Provide performance data to support management decision-making and maintain in-life products and services.
Conducting product audits/reviews, customer use analysis, competitive analysis of matching products, and feedback into product enhancement.
Manage product rationalization process of product catalogue.
Facilitate weekly business reviews and product backlog refinement sessions with development teams and stakeholders, to continually measure, learn, and iterate your product towards meeting objectives.
Oversee the design, development and implementation of business/operational tools and processes related to product delivery.
Monitor team performance and take necessary actions when performance does not meet the required standard.
Education
A First Degree or post-graduate Diploma in Marketing, Accounting, Business Administration or a related discipline
Training and certification in Project Management /Agile methodology is desirable
Fluent in English
Experience:
6 – 13 years' experience which includes:

5+ years as a Product Manager/Product owner.
Experience working in a medium to large organization
Experience in Product Development and Management experience in a Telecommunications/ICT-related environment
Experience in Agile Product Management
Experience in launching digital platforms and products.
Application Closing Date
24th July, 2023 at 10:59 PM.
How to Apply
Interested and qualified candidates should:
Click here to apply online
Note
Eligible Females and People with Disabilities are encouraged to apply.
MTN Nigeria Communications Plc (MTN) does not and will never ask for payment of any kind from applicants in all MTN's recruitment processes and stages such as job application, CV review, interview, meeting, and final processing of applications.
MTN is not liable for fraudulent publication of job offers in MTN's name or for the fraudulent use of MTN's name in any manner whatsoever.