MTN Nigeria's vision is to lead the delivery of a bold, new digital world to our customers and our purpose is to make Nigerian lives a whole lot BRIGHTER by delivering relevant, accessible, high-quality telecommunications solutions that put them in control. See more MTN Nigeria Job vacancies Here >>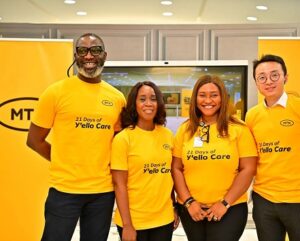 MTN Nigeria Job Recruitment is to fill the position below:
Job Title: Manager, Cloud Engineering, Information Technology
Job Identification: 2944
Location: Ikoyi, Lagos
Job Schedule: Full time
Job Category: MTN Level 2
Reports To: Senior Manager – Infrastructure Planning and Cloud
Division: Information Technology
Mission
To develop, implement and manage life cycle and maintenance of MTN Nigeria Public Cloud components, which includes the Hyperscaler landing zones, cloud containers, Virtual Machines, Disaster Recovery, database, backup, storage, and systems management in accordance with Business Strategy.
Description
Manage Hyperscaler cloud infrastructure environment through cross-technology administration (Operating System, databases, Virtual Machines ), scripting, and monitoring automation execution.
Implementing Cloud security measures to protect data from unauthorized access or use
Monitoring the performance of cloud computing systems in real-time to ensure efficient and reliable performance
Designing and implementing Cloud disaster recovery solutions to reduce risks
Develop Cloud strategies to ensure direction for cloud management to gain and support competitive advantage for MTN.
Identify Key Performance Indicators for IS business processes, working with process owners to develop pragmatic targets and determining methods and frequency of measurement.
Monitor and adopt best practices and new technologies that align with Enterprise Management strategy.
Prepare systems performance information on a daily bases and for management reviews.
Update systems management blueprint to global standards in Cloud System Management, regularly.
Track and monitor key business processes, identifying servicing/operational constraints and gaps, analysing and providing feedback/recommendation to attaining service excellence and cost effectiveness.
Serve the Division's internal customers and ensure availability of IT Services to improve the customer experience.
Ensure enough cloud capacity is always available to service business and customer services
Strategic Partnerships with MTNN leadership team to drive awareness of expected behaviors and the impact of non-compliance on bottom-line results and company image and reputation
Ensure integrity of financial disciplines within ESM environment with regard to OPEX and CAPEX
Participate in the assessment of resource requirements for EMS and assist in preparing the budget for IS Infrastructure operations and services.
Drive planned strategy for the successful delivery of MTN Group and MTNN Cloud initiatives
Drive an increase in MTNN's Net Promoter Score.
Work with IS process teams and management to discuss or explain process dysfunction, causes and possible solutions and establish the approach to delivering related improvement initiative.
Continuously seek self-professional development to sharpen Cloud skills and capabilities in a versatile and evolving Cloud digital landscape.
Coach and train the team to ensure understanding of the objectives and goals of the department, awareness of set targets and requirements, and regular review of their training needs.
Requirements
Education:
First Degree in Computer Science ant IT Related Discipline
Fluent in English.
Experience:
6 – 13 years' experience which includes:
Minimum of 3 years' experience in supervising/managing others
2 years experience working in a medium to large organization
Hands-on Hyperscaler technology using MS Azure, Google and Amazon
2 years experience in Landing Zone architecture and setup
4 years experience working in a complex public and private Cloud environment
2 years hands-on understanding of DevOps practices
Strong knowledge on Docker and Kubernetes management
Knowledge of cybersecurity in the context of the cloud.
2 years experience in platform migrations from onprem to the public cloud and between Hyperscalers
2 years experience with managing technologies such as Cloud computing, Big Data, NoSQL & RDBMS databases, familiar with the following database technologies (MySQL, MongoDB, Cassandra, SQL Server & Oracle).
Application Closing Date
21st June, 2023.
Method of Application
Interested and qualified candidates should:
Click here to apply online
Note: Eligible Females and People with Disabilities are encouraged to apply.