Alpha Mead Group is a Total Real Estate Company established to provide robust business support services to national and international Real Estate investors… See more Alpha Mead Group Job vacancies Here >>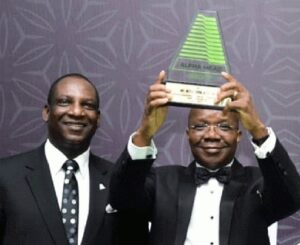 This Alpha Mead Group is to fill the position below:
Job Title: HVAC Engineer
Location: Bonny Island, Rivers
Employment Type: Full-time
Job Description
Ensure that all fittings, ducts, water pipes, and other accessories are approved before installation begins.
Ensure all tools required for the fitting including power tools, hand tools, scaffolding, and ladder on time and in the exact numbers mentioned in the list.
Prepare, apply, and get approval for the HVAC shop drawings, work method statement, MEP-coordination drawing, and project specification from the head engineer.
Coordinate installation schedule with team members and other departments working on the project.
Ensure HSE principles are adhered to
Prepare a progress report on an ongoing HVAC project
Ensure safe construction of heating, ventilation, and air conditioning maintenance according to rules and regulations set by the safety policy manual by the company.
Document Conduct Testing inspection process for a variety of tasks including the light test for ducts, underground chilled water piping system, and hydro test.
Analyze HVAC systems and equipment when necessary to find inefficiencies or malfunctions and create solutions to optimize performance and increase the efficiency of operation.
Design testing procedures and control equipment to accurately assess products and identify areas that require modification and further testing.
Assist the commission team during the testing, balancing, and adjusting phases of air
Perform troubleshooting on all HVAC equipment and perform repairs on all coolers.
Manage all-metal duct components and install all HVAC systems and monitor all provide resolutions for all emergency alarm in systems and perform the repair to all ventilating and air conditioning units.
Design and provide enhancements to all conservation programs for electricity and natural gas and assist to plant instruments and perform troubleshooting on equipment and ensure compliance with all regulations.
Perform audits on all HVAC systems and collect data and perform periodic evaluations and monitor all log books and manage all change processes and resolve all issues.
Collaborate with stakeholders to perform a regular audit and ensure compliance with all corporate regulations and assist to design an efficient HVAC system and adhere to all architectural requirements.
Analyse all load programs and perform required calculations on same and manage all electrical requirements for HVAC equipment and recommend improvement
Perform other assignments as directed by the Category Manager.
Qualifications
B.Sc. Degree in HVAC Engineering or any related field
Minimum of 3 years of experience as an HVAC Engineer in a well-structured environment
NB: Ideal candidate must be resident in Bonny Island, Port-Harcourt
Good literacy skills
Knowledge of HVAC, plumbing, using hand tools, electrical, refrigerator, air conditioning, heating, and appliances
Should have knowledge of equipment like Chiller, AHU, Cooling tower, Pumps
Able to manage time effectively
Must be aware of HSE principles and procedures.
Application Closing Date
Not Specified.
How To Apply:
Interested and qualified candidates should:
Click here to apply online
If you think this job post can be helpful to someone else, please share it on Facebook, Twitter, WhatsApp, LinkedIn or Telegram using the buttons below. Thank you