9mobile Nigeria is a proudly Nigerian private limited liability company empowered by a Unified Access Service License from the Federal Government of Nigeria in March 2007 to deliver a broad range of telecommunication services nationwide across the voice, data and enterprise services spectrum. See more 9mobile Nigeria Job vacancies Here >>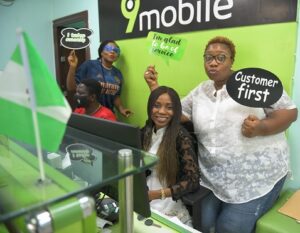 9mobile Nigeria Job Recruitment is for the Position below:
Job Title: Head, Field Operations
Job No: IRC5141
Location: Abuja
Job Summary
Coordinate the implementation of an effective framework for the operation and maintenance of the base station subsystem and provide high level support functions on all operational transmission equipment.
Principal Functions
Tactical:
Assist the Director in communicating the division's strategic direction and objectives to all staff.
Plan and monitor the implementation of established internal processes using best practice standards to ensure stable and highly available systems platform for an optimal operating environment.
Keep abreast of global and local best practice as it relates to the team/ function's activities.
Continuously review the unit/ team's activities, make recommendations for improvement and implement approved improvement initiatives to ensure enhanced performance of the team.
Identify required resources, personnel and funding to achieve the unit/ function's strategy.
Establish and maintain relationship with key internal and external stakeholders.
Support Vendor, Contract management team's activities for for improvement and implement OPEX & CAPEX saving initiatives with enhanced and improved vendor performance and SLA/KPIs
Operational:
Manage and support network access & network performance management systems and provide support on all existing and future access and transmission products.
Support and support vendor performance & contract management team to implement effective OPEX & CAPEX spend improvement plan, Contracts review & optimization to improve vendor performance
Support Contract & Vendor management team for effective collaboration with all stakeholders to Initiate Opex saving strategy with improved vendors performance and ensure agreed SLAs is strictly followed
Interface with procurement, Legal and vendor pay teams to improve services offered to vendors
Manage Data centre teams for effective O&M activities and ensure 99.9% of Power and cooling availability of the Critical sites and infrastructures (Data centres & MG/BSC sites across the country), keeping the passive equipment utilization not more than 70% of their capacity as well as effective and timely preventive maintenance to avoid outage
Oversee the integration, management and administration of access network platform infrastructure (UNIX-Solaris and application level) and related equipment.
Liaise with the transmission operations unit to plan and coordinate the activities for extension of fibre routes to new transmission sites.
Ensure the performance and availability of all access network systems deployed and monitor the status and performance of network elements.
Develop and monitor a proactive maintenance cycle on all access network systems and infrastructure and ensure regular update of system documentation.
Oversee the resolution of faults in the access network environment and provide on-site remedial support as required.
Investigate and identify reasons for abnormal network conditions.
Take proactive steps to prevent network faults and failures.
Liaise with third-party vendors and initiate regular meetings to agree on service levels.
Review recommendations of the internal audit function relating to BSS operations, policies, standards, guidelines and operations and take action as required.
Implement the function's work programs and plans in line with agreed upon procedures and guidelines.
Plan and manage the human and material resources of the team/ function to optimise performance, morale and enhance productivity.
Manage inter-functional relations to ensure synergy across inter-departmental functions.
Monitor and control the budgetary needs of the unit/function.
Prepare/compile agreed periodic activity and performance reports for the attention of the Director, FNME
Perform any other duties as assigned by the Director, FNME.
Educational Requirements
First Degree or equivalent in Electrical Engineering
Postgraduate degree/relevant professional qualification
Nine (9) to Twelve (12) years' work experience with at least three (3) years in managerial role
Experience, Skills & Competencies
Knowledge:
Control Network Technologies
Network Administration
Telecommunications & Mobile Network Standards & Specifications
Radio Access Technologies
Skills:
Delegation/ Supervisory
Influencing and Negotiation
Communication
Teaming
Behavior:
Passion for Excellence
Integrity
Empowering people
Growing people
Team work
Customer Focus
Application Closing Date
Not Specified.
How to Apply
Interested and qualified candidates should:
Click here to apply online
If you think this job post can be helpful to someone else, please share it on Facebook, Twitter, WhatsApp, LinkedIn or Telegram using the buttons below. Thank you