MTN Nigeria's vision is to lead the delivery of a bold, new digital world to our customers and our purpose is to make Nigerian lives a whole lot BRIGHTER by delivering relevant, accessible, high-quality telecommunications solutions that put them in control. See more MTN Nigeria Job vacancies Here >>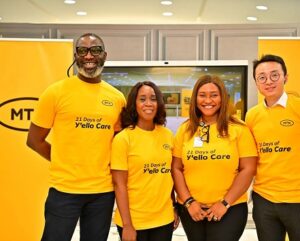 MTN Nigeria Job Recruitment is to fill the position below:
Job Title: Engineer – IP Security Operations, Network
Job Identification: 1485
Location: Ikoyi, Lagos
Job Schedule: Full time
Job Category: MTN Level 2
Reports To: Manager, IP Security Operations
Division: Network
Mission
To continuously drive MTNN Businesses/Services in achieving it's set objectives and protect these services from internal and External threats while ensuring Quality of service, Compliance to Security standards, Availability, Confidentiality, Integrity and Ensuring better customer experience.
Description
Manage and maintain all network security platforms and their associated software, such as  Firewalls, Intrusion Detection/Intrusion Prevention, Load balancers, Anti-Dos, Anti-Spam, Syslog, Remote Access and other security appliances
Ensure active Management of IPS/IDS, Web Filtering, Application controls, DDOS, Firewall, WAF, VPN, Load balancers and every other Technologies are in line with Security practices.
Development of scripts for automation of tasks and deployments, using Python, Shell, Ansible or any other network programmability solution.
Demonstrate subject matter expertise in the areas of IPS, Load balancers, WAF, Anti-DOS, Anti-SPAM, Remote access, NAT, Security Information, Event management, and Next Generation Firewalls with product specific knowledge of Cisco, Juniper, Checkpoint and Fortinet Firewalls.
Provides technical support for new integration, incident and fault resolution.
 Experience with Networking and troubleshooting (TCP/IP, DNS, routing, switching, firewalls, LAN/WAN, NAT, Access-list, IPSec/SSL VPN, Remote access, IPS and ADC)
Proactive monitoring and daily health check on network security infrastructure. Ensuring and adhering to security best practices.
Coordinate and monitor log analysis on all network security nodes, to ensure service availability and security requirements are met.
Ensure compliance to existing security policies and best practices are adhered to from a network Security Perspective.
Participates in security infrastructure audit activities and provides evidence as required
Contribute to the development, maintenance and periodic testing of disaster recovery plans ensuring business continuity for all core services and critical applications
Ensure proper integration of new network security elements at the regions and acceptance testing
Ensure proper implementation of change requests/planned activities.
Monitor performance statistics and generate weekly reports.
Ensure routine maintenance and housekeeping (records, back-ups etc.) on all network security nodes within the region
Document network problems and resolutions for future reference.
Education
First Degree in Computer Science / Engineering, Information Technology / Cybersecurity or Electrical / Electronic Engineering
Fluent in English
Experience:
Minimum of Five (5) Years of Network and Information Technology Security Experience.
In-depth understanding of NAT, VPNs, Application Security, WAF, DNS, Web Security, DDOS, Anti-spam, Access-list, Netflow, IPS/IDS, Log Analysis and Routing over varied platform such as Cisco, Juniper, Checkpoint, Fortinet and F5.
A minimum of Four (4) years of experience supporting and monitoring network security systems in telecommunication company, managing IPS, Firewalls, Load Balancers, Syslog/SIEM, Remote Access and other critical network security appliances.
Familiar with scripting languages and/or automation tools (python, ansible, netmiko etc.)
In-depth knowledge of Cybersecurity, attack methodology and security incident management.
Good understanding of Risk Management, Security controls and standards.
Broad experience handling a variety of Network Security operational tools, monitoring, executive dashboard reporting and data analysis
Application Closing Date
24th July, 2023 at 10:59 PM.
How to Apply
Interested and qualified candidates should:
Click here to apply online
If you think this job post can be helpful to someone else, please share it on Facebook, Twitter, WhatsApp, LinkedIn or Telegram using the buttons below. Thank you