MTN Nigeria's vision is to lead the delivery of a bold, new digital world to our customers and our purpose is to make Nigerian lives a whole lot BRIGHTER by delivering relevant, accessible, high-quality telecommunications solutions that put them in control. See more MTN Nigeria Job vacancies Here >>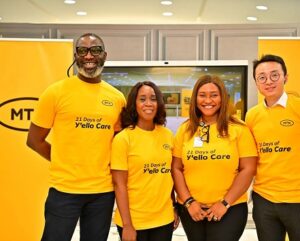 MTN Nigeria Job Recruitment is to fill the position below:
Job Title: Specialist – Digital Marketing and Communications, MoMo PSB Commercial
Job Identification: 3064
Location: Victoria Island, Lagos
Job Schedule: Full time
Job Category: MTN Level 2
Reports To: Manager – Brand and Marketing
Division: MoMo Payment Service Bank (MoMo PSB)
Mission
Drives and ensures effective Fintech implementation of building strong brand equity and TOMA that can be leveraged for customer acquisition, retention and incremental usage  in line with Fintech communication strategy and also ensures  tactical plans are executed to achieve Fintech acquisitions and revenue targets.
Description
Develop and execute digital marketing campaigns across multiple channels, including search engine marketing (SEM), social media, email marketing, display advertising, and content marketing.
Collaborate with internal stakeholders and external vendors to create engaging and effective campaign assets, such as ad copies, landing pages, and visual content.
Ensure campaigns are launched on schedule and monitor their performance throughout their lifecycle.
Gather and analyze data from various digital marketing channels to measure campaign effectiveness, identify trends, and generate actionable insights.
Track key performance indicators (KPIs) such as click-through rates (CTR), conversion rates, return on ad spend (ROAS), and customer acquisition costs (CAC).
Prepare regular reports and presentations to communicate campaign results, recommendations, and optimizations to the marketing team and relevant stakeholders.
Continuously optimize campaigns based on data-driven insights, aiming to improve performance and drive better ROI.
Conduct A/B testing and multivariate testing to refine targeting, messaging, and creative elements.
Stay up-to-date with industry trends, emerging technologies, and best practices in digital marketing and apply them to enhance campaign performance.
Collaborate with cross-functional teams, including creative, content, and web development, to align digital marketing initiatives with overall marketing strategies and goals.
Monitor activities on all MoMo PSB digital touch points, including the MoMo PSB Website (home page and top-level sections) and MoMo brand presence on other social networking sites.
Assist with developing digital rollout plans and route-to-market strategies for all Master brand initiatives.
Education
Degree in Marketing, Business or any related discipline or its equivalent.
Additional certifications in digital marketing are a plus.
Relevant postgraduate qualifications are an advantage.
Experience:
3 – 7 years' experience, which includes:

A minimum of 2 to 3 years' total experience in Digital Marketing or an allied field is required.
Proven experience in implementing and managing digital marketing campaigns, preferably in a data-driven environment.
Proficiency in digital marketing platforms such as Google Ads, Facebook Ads Manager, Google Analytics, and email marketing tools.
Experience in Fintech, banking, or Mobile Money is preferred.
Experience working in a global or multinational enterprise with a good understanding of emerging markets is preferred.
Passion for digital marketing and staying up-to-date with industry trends and best practices.
Application Closing Date
24th July, 2023 at 11:59 PM.
How to Apply
Interested and qualified candidates should:
Click here to apply online
Note: Eligible Females and People with Disabilities are encouraged to apply.
If you think this job post can be helpful to someone else, please share it on Facebook, Twitter, WhatsApp, LinkedIn or Telegram using the buttons below. Thank you