Lance Trend is a lead distributor for Canon in Nigeria, as well as partners with various ICT, manufacturers like HP (Gold Partner), Lenovo, Dell, Sharp, and Epson. See more Lance Trend Limited Job vacancies Here >>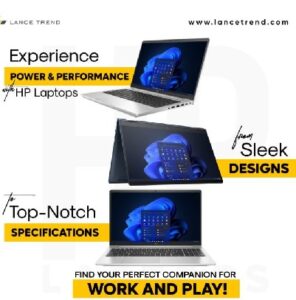 Lance Trend Limited Recruitment is to fill the position below:
Job Title: E-Commerce / Website Manager
Location: Ketu, Lagos
Employment Type: Part-time
Job Description
We are seeking an enthusiastic and knowledgeable E-Commerce / Digital Executive to promote and sell our ICT solutions.
In this role, your duties will include familiarizing yourself with the technical specifications of our products, assessing clients' ICT needs, and demonstrating our ICT solutions to potential clients online.
The major objective of an E-Commerce / Digital Marketing Executive is to develop strong and innovative strategies to promote the business brand, products, and services.
An E-Commerce / Digital Marketing Professional is expected to effectively use all marketing tools and techniques like PPC, SEO, SEM, email, social media, and display advertising.
Responsibilities
Identify trends and insights, to allocate marketing investments.
Executes Marketing and publicizing efforts by gathering and examining deals gauges; getting ready Marketing and promoting procedures, plans, and targets; arranging and putting together limited-time introductions; and refreshing schedules.
Tracks product offering deals and expenses by breaking down and entering deals, costs, and new business information.
Plans promote reports by gathering, breaking down, and summing up deal information.
Plan and direct marketin10g campaigns
Manage an organization's website and maintain it, keeping best practices in mind.
Optimize content for the website and social media platforms
Work with various content formats such as blogs, videos, audio podcasts, etc.
Track the website traffic flow, Implement and analyze performance metrics
Device experiments and conversion tests and provide internal reports on a regular basis.
Execute new and creative collaborations among technologies and platforms
Qualifications
B.Sc or HND in Marketing, Publicizing, or its equivalent.
7 – 15 years of work experience.
Must be dynamic via online media.
Information on CMS.
Great copywriting and duplicate-altering abilities.
Profoundly coordinated.
Solid PC education.
Undertaking the board's insight.
Solid meticulousness.
Information on web examination.
Requirements:
Web coding: Must be liable for citing the executives, which requires a solid comprehension of HTML and CSS.
Promoting computerization: The advanced advertising facilitator's work occurs across different Digital channels. They are knowledgeable in the realm of promoting computerization and have an especially solid comprehension of SEO and SEM and how these practices drive income.
Web-based media clever: Must know about the most current online media stages and their viability in elevating administrations and items to designated crowds. Experience managing web-based media missions will serve forthcoming position competitors well.
Relational abilities: Every day's occupation is spent making solid, brand-implanted duplicates to support an organization's main goal and item esteem.
Insightful abilities: Advanced promoting facilitators should evaluate and investigate crusade results and make proposals on approaches to improve or expand the accomplishment of Marketing endeavors.
Application Closing Date
19th August, 2023.
How to Apply
Interested and qualified candidates should send their CV to: recruitments@lancetrend.com using the Job Title as the subject of the mail.
Note: Only qualified candidates will be contacted.
If you think this job post can be helpful to someone else, please share it on Facebook, Twitter, WhatsApp, LinkedIn or Telegram using the buttons below. Thank you