MTN Nigeria's vision is to lead the delivery of a bold, new digital world to our customers and our purpose is to make Nigerian lives a whole lot BRIGHTER by delivering relevant, accessible, high-quality telecommunications solutions that put them in control. See more MTN Nigeria Job vacancies Here >>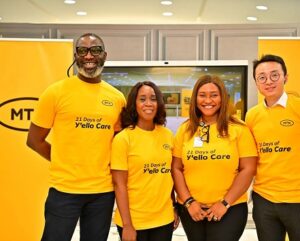 MTN Nigeria Job Recruitment is to fill the position below:
Job Title: Advisor – OD and Performance Network and IT, Human Resources
Job Identification: 2815
Location: Ikoyi, Lagos
Job Schedule: Full time
Job Category: MTN Level 2
Reports To: Manager – HR Business Partnering
Division: Human Resources
Mission
To ensure the implementation of HR strategy in alignment with regional and divisional business plans and to promote consistent understanding and adherence to HR policies, procedures, and processes.
Description
Facilitate and ensure compliance with the employee performance management cycle in alignment with the evolving needs of the organization and changing work dynamics.
Provide support in the implementation of modern attraction and recruitment strategies to attract and select top talent that aligns with the changing requirements of the organization.
Guide and facilitate the confirmation process for new staff on probation, taking into consideration evolving expectations and performance indicators.
Drive the implementation of career management initiatives within the assigned division to support employees in navigating their career paths in an evolving work environment.
Assist in driving the participation of employees within the assigned divisions in Group Culture Audit (GCA) and other surveys, adapting them to capture changing employee experiences and expectations.
Support the implementation of departmental recognition programmes that reflect the changing nature of work and promote participation in all recognition programmes.
Coordinate and manage assigned exit activities for exiting staff, paying attention to the changing reasons for employee departures and gathering insights to improve retention strategies.
Collaborate with Line Managers of the assigned division and Organizational Development team to develop and implement organizational structures and designs that are adaptable to changing business needs, including the creation of updated job profiles, considering the changing skill sets required.
Work closely with the Industrial Relations Advisor to coordinate Regional Employee Council Meetings, identify and address pertinent employee and workplace issues, and report outcomes to foster a positive work environment.
Organize and coordinate staff engagement meetings for the assigned divisions, such as village meetings, to promote open communication, collaboration, and teamwork in an ever-changing work landscape.
Identify opportunities for improvement in human resources processes.
Requirements
Education:
First Degree in any related discipline
Fluent in English.
Experience:
3 – 7 years of experience which includes:

Performance Management
Organizational Development
Recruitment
Industrial Relations
Employee Relations
HR Administration
Experience in the telecommunications industry would be an advantage.
Application Closing Date
21st June, 2023.
Method of Application
Interested and qualified candidates should:
Click here to apply online
Note: Eligible Females and People with Disabilities are encouraged to apply.