Ecobank is a major player in the distribution of financial services in Nigeria, leveraging digital platforms including Ecobank Mobile App and USSD, Ecobank Online, Ecobank OmniPlus, Ecobank Omnilite, EcobankPay, Ecobank RapidTransfer, ATMs, POSs and an extensive distribution network of over 250 branches and over 50,000 agency banking locations. Incorporated as a public limited liability company on October 7, 1986, Ecobank Nigeria is a key subsidiary of Africa's leading independent banking group, Ecobank Transnational Incorporated (ETI). The operations of Ecobank Nigeria are supervised and regulated by the Central Bank of Nigeria (CBN) as well as the National Deposit Insurance Corporation (NDIC). Start a new career today with Ecobank Nigeria, and be part of our success story.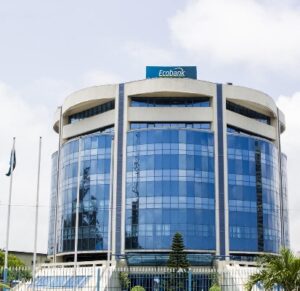 Ecobank Nigeria Recruitment is to fill the position below:
Job Title: Systems Audit Officer
Job Identification: 337
Location: Victoria Island, Lagos
Job Schedule: Full time
Key Responsibilities
Manage the audit team:
Coordinate and supervise the audit team during field work/assignment and ensure coverage of audit scope.
Supervise the audit team during audit field work/assignment and ensure coverage of audit scope.
Motivate, share ideas and provide on-the-job training for the audit team members.
Provide input on professional development needs of team members.
Audit engagement and planning:
Develop risk-based audit programs/checklist for specific systems audits areas as assigned by Systems Audit Manager/Unit Head.
Plan and assign resources to execute audit of various systems including Operating System, Database, Business Applications, network and communication security, IT general controls, IT general controls including backup and disaster recovery, System development standards, international standards like ISO27001, ISO22301, etc in accordance with the annual IS audit plan.
Determine specific scope of audits assigned to the team relating to business processes, the platforms and applications supporting the business processes.
Ensure use of CAAT (Computer Assisted Audit Techniques) tool by the team where applicable/available for the audit.
Audit Execution and Reporting:
Execute the audit plan by carrying out various audit with the team assigned.
Ensure the use of Audit Issue Management System (AIMS) for the conduct of assigned IS Audits.
Arrange and organize audit entrance and closing meetings with the audit clients where audit objectives, scope and terms of engagement are clarified, and key audit findings are reviewed.
Review audit exceptions/draft findings from team members and engage the audit clients appropriately.
Review root cause, corrective action plan, target dates for resolution of audit exceptions and agree with the audit clients.
Develop draft audit reports for audits/reviews conducted by the audit team.
Carryout issue assurance/follow up to ascertain the level of remediation of audit issues reported previously.
Working paper (WP) management:
Ensure that appropriate audit work papers documentations are maintained for audit assignment.
Setup/maintain folder for each specific audit on IA portal and ensure that working papers are stored properly in line with the defined standard.
Data Analytics, Audit Process Automation and support:
Develop and maintain audit automation procedures to support and facilitate internal audit/inspection function.
Provide data analytics support and technical expertise to the rest of Internal Audit Group (IAG).
Other/general activities:
Perform other job-related ad-hoc assignments including IT related technical investigations that may be assigned by the Audit manager, Chief Audit Executive (CAE) and the Management from time to time.
Experience & Qualifications
Minimum of 2nd Class Lower in Computer Science, Accounting or any other related First Degree equivalent.
Certified Information System Auditor (CISA), (MBA, MSC, MA, ML and/or Professional Qualifications is an additional advantage)
Minimum of 5 years working experience in similar function
Skills, Capabilities & Personal Attributes:
Articulate
Analytical skills.
Technology awareness.
Strong interpersonal skills
Communication (oral & written) skills.
Team building.
Strong knowledge of banking operations, audit, products & customer segmentation
Basic Accounting knowledge
Knowledge of Information Systems audit practices.
Expertise in Data analysis.
Information Technology (Business perspective, IT management).
Project management.
Product knowledge
Knowledge of banking operations.
Knowledge of risk assessment and control.
Paying attention to details
Honest, punctual, trustworthy and hardworking
Always ready to add value to the system.
Maintain confidentiality and protect the privacy of sensitive data extracted for audit purposes and reporting.

Application Closing Date
19th July, 2023.
How to Apply
Interested and qualified candidates should:
Click here to apply online
If you think this job post can be helpful to someone else, please share it on Facebook, Twitter, WhatsApp, LinkedIn or Telegram using the buttons below. Thank you