Standard Chartered Bank Nigeria being among the first financial institution in Nigeria, re-entered the country in 1999 and opened to customers on 15 September 1999 as a wholly owned subsidiary of Standard Chartered Bank Plc, headquartered in United Kingdom. See more Standard Chartered Bank Job vacancies Here >>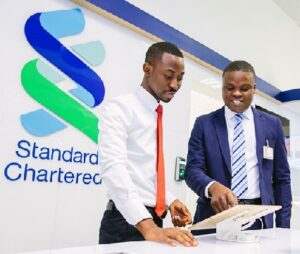 Standard Chartered Bank Recruitment is to fill the position below:
Job Title: Specialist, Financial Market Operations
Job ID: 2300008884
Location: Lagos
Schedule: Full-time
Job: Operations
Employee Status: Permanent
Role Responsibilities
The role holder is responsible support to the Product delivery Manager FXMM in the end to end deal processing, settlement and confirmation of all FX and MM deals for in-country Financial Markets Operations.
Strategy:
To work closely with Manager Product Delivery FXMM to ensure services delivered are of top quality and that customer's needs are being attended to according to our service level agreements.
To ensure that key business practices and service delivery processes are conducted in compliance with Group and country regulatory guidelines and those risks are identified and managed.
To support country FMO head, Product Delivery Manager FXMM to deliver the FM Business strategy as it relates to FXMM.
Business:
Management of the day to day operations of the desk to align with the business strategy and priorities, monitoring service issues and action plans to rectify it and work with Manager FXMM to improve operational risk environment within the team
Ensuring compliance with all Group and Country policies, Code of Conduct and consistency in execution, and to ensure that statutory regulations and laws as a corporate body are met and satisfied.
Ensure day to day operating compliance with all relevant local and global regulatory requirements and industry best practice
Processes:
Support the Product Delivery Manager-FXMM in the processing of transactions relating to Central Bank of Nigeria FX auctions.
Take responsibility for the processing of FX Forward discounting and Unutilised FX sold to the Central bank (including record keepings). This also involve clients are promptly credited upon receipt of refunds from the CBN.
Responsible for the daily reconciliation of Central bank of Nigeria No exposure Opics profiles in line with approved process.
Work with other managers and officers within FMO to produce weekly and monthly MIS for Nigeria FMO Head.
Serve as the first point of contact for all customers queries and complaints for the team. Manage all complaints queries in line with established procedure.
Responsible for driving total utilisation of GEMS application within the team.
Responsible for ensuring complete, accurate and up to date report of discounted FX forward is maintained for the team.
Work with other stakeholders to maintain a complete and up to date schedules of weekly FX sold via the CBN Invisible and SME window.
Role holder will work with FXMM Investigation team in GBS to ensure all outstanding items relating to the products are promptly attended to.
Responsible for working with FM Sales and RMs on corporate deposits booked for clients in Opics.
Risk Management:
Demonstrate awareness and understanding of the main risks Financial Market Operations and particularly the job role.
Remain alert to the risk of money laundering and assist in the Bank efforts in combating it by adhering to the key principles in relation to: Identifying your customer, knowing your customer, reporting suspicions, safeguarding records and not disclosing suspicions to customers.
Ensure any operational incidents (Risk, losses or near misses) identified are escalated promptly.
Governance:
Review trend analysis of performance benchmark standards (straight through processing attainment, query resolution turnaround times etc)
Ensuring controls related to FM Operations are applied to daily processes to confirm minimal risk
Regulatory & Business Conduct:
Display exemplary conduct and live by the Group's Values and Code of Conduct.
Take personal responsibility for embedding the highest standards of ethics, including regulatory and business conduct, across Standard Chartered Bank. This includes understanding and ensuring compliance with, in letter and spirit, all applicable laws, regulations, guidelines and the Group Code of Conduct.
Lead the FMO Nigeria to achieve the outcomes set out in the Bank's Conduct Principles: Fair Outcomes for Clients; Effective Financial Markets; Financial Crime Compliance; The Right Environment.
Effectively and collaboratively identify, escalate, mitigate and resolve risk, conduct, and compliance matters.
Key Stakeholders:
Settlement & Clearing
External Validation
FM Stakeholders
FM front office
WMPS
UKINV team
Finance
Local Banks
Central Bank of Nigeria
Other Responsibilities:
Serve as an alternate to the Product Delivery Manager FXMM in the processing all Money Market transactions including interbank deals.
Requirements
Our Ideal Candidate:
Market Knowledge: – awareness and understanding of the wider business, economic and market environment in which the firm operates. Must be conversant with various regulations that impact financial markets in the location, specifically Central Banks of Nigeria circulars relating to FXMM
Risk Management and Control: – ability to identify risks and escalate it. Also, an awareness and understanding of the main risks facing the bank, Financial Markets and the role the individual plays in managing them.
This role would require a good Bachelor's Degree, 3+ years of relevant experience preferably in financial institution and banking Operations
Good knowledge of Foreign Exchange and Money Market processes and products
Proficient in PC Skills particularly Microsoft Excel
Ability to work within a multi-function, multi-discipline team environment with good stakeholder management skills
Good communication, Interpersonal and analytical skills.
Role Specific Technical Competencies:
Manage Risk
Manage Change
Business Governance & Support
Manage People
Service Delivery & Operations
Manage Conduct
Application Closing Date
11th August, 20233; 4:59:00 AM
How to Apply
Interested and qualified candidates should:
Click here to apply online
If you think this job post can be helpful to someone else, please share it on Facebook, Twitter, WhatsApp, LinkedIn or Telegram using the buttons below. Thank you