MTN Nigeria's vision is to lead the delivery of a bold, new digital world to our customers and our purpose is to make Nigerian lives a whole lot BRIGHTER by delivering relevant, accessible, high-quality telecommunications solutions that put them in control. See more MTN Nigeria Job vacancies Here >>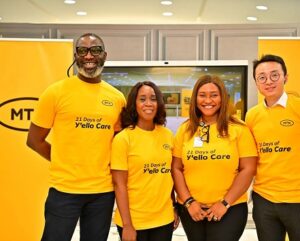 MTN Nigeria Job Recruitment is to fill the position below:
Job Title: Senior Manager – Channel Management, Sales and Distribution
Job Identification: 3162
Location: Ikoyi, Lagos
Job Schedule: Full time
Job Category: MTN Level 3H
Reports To: General Manager – Business Development
Division: Sales and Distribution
Mission
To coordinate and provide overall management for all distribution channels with the aim of achieving efficient product distribution and service availability.
Description
Develop strategies and champion a customer-centric culture across the organization, and develop or reform relationships with MTNN's internal and external customers to transform the company's revenue.
Strategic Partnerships with MTNN leadership team to drive awareness of expected behaviors and the impact of non-compliance on bottom-line results and company image and reputation
Participate in Contract negotiations to reduce costs and drive the MTNN Value Creation Philosophy.
Network and build solid relationships with internal units and relevant third parties (e.g., strategic investors, technical and financial partners, business consultants, etc.) and develop a close working relationship with relevant information sources to provide an integrated service.
Develop and execute plans for sustainable channel growth and development.
Coordinate channel activities to ensure product availability across the market.
Develop strategies for effective market penetration based on existing channels.
Generate periodic channel assessment reports for channel performance reviews.
Define and implement communications strategies that will support a differentiated MTN brand position that sets the organization apart from the competition.
Identify consistently the most effective channels to communicate the MTN Brand in the marketplace.
Liaise with sales channel management to identify and attend to specific distributor or channel needs and resolve problems.
Drive the adoption of New Growth Opportunities for the Business within the Trade channels.
Oversee the initiation and management of sales activation at identified key retail points.
Ensure trade programs meet business objectives and trade channel requirements.
Manage the development of relevant Visibility solutions to support Sales and Marketing programs.
Establish a commercial footprint for various channels that shadow the network roll-out.
Execute strategies for effective market penetration based on existing channels.
Execute strategies to optimize channel performance based on assessments and reports.
Ensure a full understanding of the telecommunications industry's (Global and Local) trends and developments in order to assess the strategic technology and regulatory impact on MTNN's current and future business.
Establish processes and standards for impact assessment and evaluation of systems and technologies with regards to customer experience.
Review market intelligence and competitor insight and develop approaches for penetrating the market based on existing channels, identifying constraints, challenges, and trade-offs of the approaches.
Monitor and review channel profitability, dealer performance, and sales performance trends, and generate periodic channel assessment reports for channel performance review.
Provide leadership and direction in the operations, leading the team to deliver on their respective business targets and improve the overall performance of the department.
Coach and mentor the team to ensure understanding of the objectives and goals of the department, awareness of all related job requirements and accountabilities, and leverage human resources career development programs for staff career development.
Identify, evaluate, and track the development needs and performance of staff within the department, providing opportunities for staff to build on the company's investment in their training and improve productivity.
Education
First Degree (in Economics, Administration, or Communications preferred)
Fluent in English and the language of the country is preferable.
Experience:
9 – 17 years' experience, including:

A manager's track record of 3 years or more, with at least 3 years in the relevant sector or industry
Work experience across diverse cultures and geographies is advantageous.
8 years of sales and marketing experience (ideally in distribution).
Application Closing Date
8th August, 2023 at 10:59 PM.
How To Apply:
Interested and qualified candidates should:
Click here to apply online
Note
Eligible Females and People with Disabilities are encouraged to apply.
MTN Nigeria Communications Plc (MTN) does not and will never ask for payment of any kind from applicants in all MTN's recruitment processes and stages such as job application, CV review, interview, meeting, and final processing of applications.
MTN is not liable for fraudulent publication of job offers in MTN's name or for the fraudulent use of MTN's name in any manner whatsoever.
If you think this job post can be helpful to someone else, please share it on Facebook, Twitter, WhatsApp, LinkedIn or Telegram using the buttons below. Thank you