Workforce Group is a human resource firm that support businesses and organisations of varying size, structure and maturity across diverse sectors such as Technology, Telecoms, Oil & Gas, Financial Services, Third Sector, FMCG etc.
See more Workforce Group Job vacancies Here >>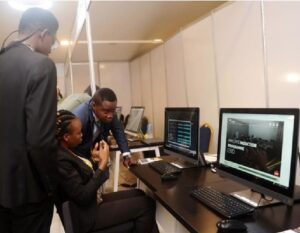 Workforce Group Recruitment is to fill the position below:
Job Title: Sales & Marketing Manager
Location: Shagamu, Ogun
Employment Type: Full-Time
Direct Report: MD/CEO
 About The Role
The Sales & Marketing Manager will be responsible for managing the sales and marketing activities of the company to achieve its business objectives.
This role owns and drives the overall revenue, marketing, and brand strategy of the company.
He or she will be expected to possess and demonstrate a positive attitude and commitment to the company's core objectives and success.
Responsibilities
Sales:
Developing and implementing sales strategies to increase revenue and market share. Building and maintaining relationships with distributors and key clients, including architects,
designers, contractors, and developers Managing the sales team and providing guidance, training and support as needed. Assist HR
in identifying training and role gaps in the sales function. Create and sustain performance culture by setting sales KPIs and monitoring actual
performance against them. Conducting market research to identify new opportunities and trends in the building
materials industry. Redefine and strengthen our target market, creating and sustaining new sales
funnels/channels. Developing and maintaining sales collateral, such as presentations and sales pitches Negotiating and closing sales deals with clients Analyzing sales data and providing regular reports to senior management on a weekly,
monthly, quarterly, and annual basis Manage, optimize, and track the Order-to-Cash process. Review existing sales team organizational structure for optimal positioning and impact. Actively participate in the periodic rolling, annual, and long-term budget, and planning
cycles. Design, implement and track customer loyalty programs. Advice management on competitive landscape and opportunities Proactively creating head rooms for career growth by building succession pipelines
Marketing:
Developing and implementing marketing strategies to consistently increase brand awareness and generate leads.
Optimize marketing spend to achieve the highest possible ROI across channels. Creating and managing marketing campaigns across various channels, such as social media,
email, and advertising. Conducting market research to understand customer needs and preferences in the building
materials industry. Developing and maintaining marketing collateral, such as brochures, flyers, and websites Coordinating with other departments, such as product development and customer service,
to ensure alignment with marketing efforts. Analyzing marketing data and providing regular reports to senior management.
Job Requirements
Proactive, Marketing, Customer Focused, Product Development, Marketing Campaigns, Visio, Customer Service, Customer Focus, Advertising, Positive Attitude, Leadership, Excel, Communication Skill, Sales And Marketing, Trends, Work Independently
Application Closing Date
Not Specified.
How To Apply:
Interested and qualified candidates should:
Click here to apply online
If you think this job post can be helpful to someone else, please share it on Facebook, Twitter, WhatsApp, LinkedIn or Telegram using the buttons below. Thank you