IT Horizons Limited is Africa's accomplice of decision in all things connecting with Information Communication Technology, (ICT). With a staff strength wealthy in information, ability and aptitude, we have everything necessary to go to all your innovation needs. See more IT Horizons Limited Job vacancies Here >>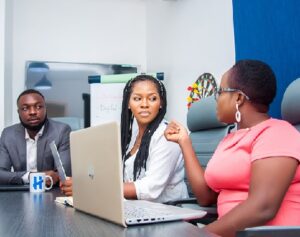 IT Horizons Limited Recruitment is to fill the position below:
Job Title: Regional Sales Manager (Tech Sales)
Location: Abuja (FCT)
Employment Type: Full-time
Job Summary
The position is responsible for developing, maintaining and managing sales activities of the business within Abuja & Northern environs, as well as developing and implementing an innovative, growth-focused commercial strategy, focused primarily on new opportunities and markets.
The Client Relationship Manager shall be responsible for driving the acquisition of the Company's customers, its revenue goals and the general direction and management of all sales and marketing activities, including market, competitiveness, product definition/pricing and distribution/diversity strategies.
Job Description
Directing strategy towards the profitable growth and operation of the company.
Represents the company externally to enhance and strengthen the company's profile and optimizes all business development opportunities.
Maintains a good level of understanding and knowledge of the Company's products and services, ensuring that customer queries can be captured and dealt with accurately and appropriately
Ensures that all commercial activities meet or improve on budget, cost, volume and efficiency targets (Key Performance Indicators (Key Performance Indicators)) in line with business objectives.
Achieve growth and hit sales targets by successfully meeting set targets
Build and promote strong, long-lasting customer relationships by partnering with them and understanding their needs
Work with the Head of Sales & Marketing to ensure consistent lead generation.
Support the Head of Sales & Marketing in preparing and implementing annual work and resource plans; support their applicability within the overall company strategy.
Identifies business opportunities by identifying prospects and evaluating their position
in the industry; researching and analyzing sales options
Maintains relationships with clients by providing support, information, and guidance; researching and recommending new opportunities; recommending profit and service improvements
Making accurate cost calculations to provide customers with quotations
Achieve growth and hit sales targets of the organization through effective planning and budgeting.
Design and implement a strategic business plan that expands company's customer base and ensure its strong presence
Present sales, revenue and expenses reports and realistic forecasts to your line manager
Collaborate with Technical team on sales technology initiatives
Ensure correct usage of CRM and other sales applications
Train and ensure adherence to sales process
Contributes to team effort by accomplishing related results as needed
Ensure that all sales representative activities are in accordance with the guidelines of the Company's Code of Conduct.
Accomplishes marketing and organization mission by completing related results as needed.
Protects organization's value by keeping information confidential.
Updates job knowledge by participating in educational opportunities; reading professional publications; maintaining personal networks; participating in professional organizations.
Liaise with vendors and other IT personnel for problem resolution
Develops qualified leads and generate new business in line with the Company's commercial target
Builds effective relationships with potential clients and existing customers
Speaks positively and enthusiastically about the Company and its products and services to ensure that a professional company and brand image is provided at all times to customers and colleagues
Job Specification
University Degree in a relevant discipline
Master's degree from a recognized University will be an advantage.
Membership of professional management associations will be an added advantage
Minimum of 4 years' work experience in ICT/Telecoms or related industry
Minimum of 7 years of experience.
Application Closing Date
29th August, 2023.
How To Apply:
Interested and qualified candidates should send their CV to: career@ithorizonsgroup.com and cc: vakhigbe@ithorizonsgroup.com using the Job Title as the subject of the mail.
If you think this job post can be helpful to someone else, please share it on Facebook, Twitter, WhatsApp, LinkedIn or Telegram using the buttons below. Thank you