9mobile Nigeria is a proudly Nigerian private limited liability company empowered by a Unified Access Service License from the Federal Government of Nigeria in March 2007 to deliver a broad range of telecommunication services nationwide across the voice, data and enterprise services spectrum. See more 9mobile Nigeria Job vacancies Here >>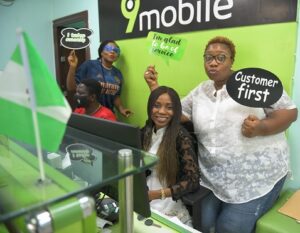 9mobile Nigeria Job Recruitment is for the Position below:
Job Title: Manager, BSS & RAN Operations
Job: IRC5136
Location: Abuja, NG
Job Summary
Coordinate the daily BSS operations including operations and maintenance, CR/WO implementation, integration, and commissioning of 2G/3G/4G sites and health checks for BSS and RAN systems
Principal Functions
Coordinating new RAN nodes integration
Coordinating corrective RAN/BSSmaintenance as required, and assisting the field operation teams to resolveBSS/RAN issues including clearing of QOS alarms, resolving BSS-related outageand network problems.
Coordinating root cause analysis,network trend analysis and incident reporting
Coordinating RAN Node health checksand preventive maintenance
Coordinating second level andnecessary back office support to the Field, and NOC teams
Ensuring optimum availability of BSSnodes
Coordinating the BSS databasemanagement, including network parameter changes, BSC/RNC rehoming, cutovers, newfeatures implementation, network upgrades, BTS/Node B rehoming and packetswitch configurations.
Proactively working with the RFplanning team and other stakeholders for deployment of new network features andnetwork improving activities on the network.
Coordinating the implementation ofBSS/RAN-related work orders (WOs) and change requests (CRs)
Provision of expert BSS operationsadvice on solutions proposed by various BSS vendors.
Troubleshooting of critical BSS faultssuch as faults caused by software bugs, interface faults, severe KPI impactingfaults using advanced troubleshooting skills.
Provision of BSS inputs forcross-technology engagement with other units involved in the deployment oftechnical solutions
Participating in major incidentreviews, supporting incident managers in identifying real causes andaccurate descriptions of incidents and impacts
Management of BSS teams' activitiesand evaluation of their performance.
Carrying out other duties as assignedby the Head, NOC and BSS.
Educational Requirements
First Degree or equivalent in Electrical or Computer Engineering or any relevant discipline
Six (6) or more years post NYSCwork experience with at least three (3) years at supervisory level
Multi-vendor BSS/RAN experience
Experience,Skills & Competencies:
Knowledge:
Network availabilityand capacity management
Network administration
Network operations and maintenance
Skills:
Communication
Delegation/ Supervisory
Problem Solving
Behavior
Passion for Excellence
Integrity
Empowering people
Growing people
Teamwork
Customer Focus.
Application Closing Date
Not Specified.
How to Apply
Interested and qualified candidates should:
Click here to apply online
If you think this job post can be helpful to someone else, please share it on Facebook, Twitter, WhatsApp, LinkedIn or Telegram using the buttons below. Thank you