Nestle Nigeria Plc unlocks the power of good food to enhance quality of life. We are the number one Nutrition Health and Wellness Company. See more Nestle Nigeria Plc Job vacancies Here >>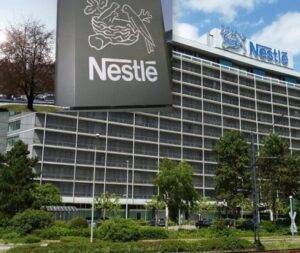 Nestle Nigeria Plc Recruitment is to fill the position below:
Job Title: Maintenance & Improvement Supervisor (Facilities Management)
Location: Agbara, Ogun
Position Type: Full-Time
Position Summary
We are currently looking for a suitable candidate for the Maintenance and Improvement Supervisor role, who will be responsible for the supervision of the engineering technicians assigned to facilities maintenance, to ensure that proper engineering support is provided on day to day engineering operation of the factory.
He shall exercise supervision according to Nestle policies, guidelines, rules and regulations.
A day in a Life..
Ensure that there exists within the engineering maintenance team an attitude of absolute intolerance for unsafe situations. That all team members are encouraged never to implement ant change, whether directly instructed to, or under his/her own initiative, without first questioning its impact in relation to product safety/quality, people safety and the environment. No compromises should be tolerated.
Ensure that Good Engineering Practices are being applied at all times.
Ensure the implementation of all repairs/modifications resulting from gap assessments, plant audits and notifications.
Ensure that all technicians receive direct on the line coaching in machinery and line operation skills in respect to the requirements of Hygiene engineering.
Encourage close teamwork between all functions (Engineering, Production, Quality Management etc.) with effective information dissemination and documentation. Review systematically all lines, processes and utilities that are critical to the business and those where failure can have an unacceptable impact on safety, environment or compliance with the law.
Support and encourage the decentralizing of routine maintenance with first time quality.
Ensure that continuous improvement becomes a key pillar of the M&I culture.
Implement consequence driven maintenance (CDM) as the multi-discipline, team based approach to proactively maintain/improve the Asset Intensity and performance of the company's Asset and Maintenance Management (AMM) as the process to manage the lifecycle of the fixed assets.
Establish and manage the yearly, monthly, weekly maintenance plans to ensure essential maintenance is completed within a reasonable time in either day or shift basis.
Monitor plant/equipment to ensure optimal operation and reduction of planned/unplanned downtime on day or shift duty.
Optimize predictive maintenance technologies (condition monitoring and inspections) to minimize unplanned downtime on day or shift duty.
Utilize planned downtime for scheduled and condition-based maintenance with work orders with OEM, on day or shift duty.
Develop and implement improvements to minimize downtime for line change and cleaning, on day or shift duty.
Liaise with production, quality management on a daily basis to resolve technical and/or operational issues (Stoppage analysis from downtime reporting system), on day or shift duty.
Establish with production, shutdown and start-up work programs to minimize the risks to the product, people and production losses, on day or shift duty.
Supervise and coordinate Beverages/Confectioneries maintenance tasks by technicians and third parties, on day or shift duty with first time quality.
Carry out Continuous Improvement (CI) with LEAN prospects in Beverages & Confectioneries Electrical with the aim of achieving optimized plant performance, on day or shift duty.
Coordinate all Maintenance and Improvement checklist of all Electrical equipment, on day or shift duty.
Provide support for Beverages/Confectioneries Projects as it involves the various sections, on day or shift duty.
Ensure viable spare part management for all machines under coverage.
What Will Make You Successful?
To be successful in this position you must have a:
B.Sc. / HND in Mechanical Engineering.
Minimum of 3 years post qualification experience in maintenance of process machines and equipment
Must be a Team Player, Result Oriented, Adaptable/Flexible and always willing to help
Must have a good Communicator, be agile, and able to work under pressure.
We Offer
Interesting and challenging work in an international company – a branch of worldwide and well recognized FMCG concern
Possibility to work in a dynamic team of professionals and leaders
Possibility to work with challenging projects and responsible tasks
Atmosphere full of respect, professionalism and excitement
Possibility of development & career advancement.
Application Closing Date
Not Specified.
How to Apply
Interested and qualified candidates should:
Click here to apply online
If you think this job post can be helpful to someone else, please share it on Facebook, Twitter, WhatsApp, LinkedIn or Telegram using the buttons below. Thank you