VIP Express Tourism Limited focuses especially on high-quality family vacations as we cherish the close ties that families have. By providing these high-quality holiday lodging services, VIP Express Tourism Limited helps to fortify the ties between families, lessen stress from life's daily responsibilities, and lengthen lives. See more VIP Express Tourism Limited Job vacancies Here >>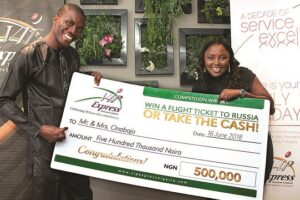 VIP Express Tourism Limited Recruitment is to fill the position below:
Job Title: Human Resource Officer (Legal Background)
Location: Port Harcourt, Rivers
Employment Type: Full-time
Description
Are you a skilled human resource officer with a background as a legal? Do you have a passion for human resources and a keen interest in applying your legal expertise in a corporate setting? If so, we have the perfect opportunity for you!
VIP Express Tourism Ltd is a leading and innovative organization in the travel and tourism industry committed to excellence and employee development. We are currently seeking a highly qualified and motivated Human Resource Officer with a legal background to join our HR team and play a pivotal role in driving our HR operations in our Port Harcourt office to new heights.
Job Summary
As a Human Resource Officer with a legal background, you will be responsible for bridging the gap between our HR department and legal affairs.
You will play a crucial role in ensuring that all HR policies, procedures, and practices align with the relevant laws and regulations.
In addition to providing legal guidance, you will actively participate in various HR functions, including recruitment, employee relations, performance management, and compliance.
Key Responsibilities
Collaborate with HR Lead -Nigeria to develop and implement legally compliant HR policies and procedures.
Conduct regular reviews of HR processes to ensure alignment with current employment laws and regulations.
Provide expert legal advice on employee contracts, terminations, and disciplinary actions.
Advise management on complex employee relations issues, ensuring fair and equitable treatment of all employees.
Stay up-to-date with changes in labor laws and industry trends to ensure proactive compliance.
Support the HR team in conducting investigations related to employee complaints or disputes.
Assist in the development and delivery of HR training programs for employees and managers on legal matters.
Ensure that all HR-related documentation and practices meet the highest legal standards.
Collaborate with external legal counsel as needed for specialized legal matters.
Qualifications and Skills
LLB, BL Degree
Proven experience as an HR professional with a legal background, preferably in a corporate setting.
In-depth knowledge of employment laws, regulations, and best practices.
Strong analytical and problem-solving skills to assess complex legal and HR issues effectively.
Excellent communication skills, both written and verbal, with the ability to convey complex legal concepts in a clear and concise manner.
Demonstrated ability to work collaboratively with cross-functional teams and build strong relationships.
High level of integrity and ethical standards, maintaining strict confidentiality with sensitive information.
Proactive approach to staying informed about changes in Labor laws and industry practices.
Exceptional organizational skills with the ability to prioritize and manage multiple tasks efficiently
Salary
N100,000 – N130,000 / month.
Application Closing Date
28th August, 2023.
How to Apply
Interested and qualified candidates should send their CV to: recruitmentphc@vipnig.com using the Job Title as the subject of the mail.
If you think this job post can be helpful to someone else, please share it on Facebook, Twitter, WhatsApp, LinkedIn or Telegram using the buttons below. Thank you