Workforce Group is a human resource firm that support businesses and organisations of varying size, structure and maturity across diverse sectors such as Technology, Telecoms, Oil & Gas, Financial Services, Third Sector, FMCG etc. to enhance business performance, optimise for growth and achieve exceptional results.
See more Workforce Group Job vacancies Here >>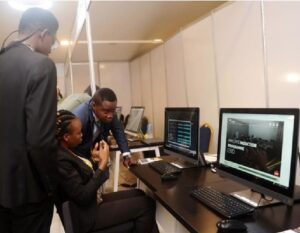 Workforce Group Recruitment is to fill the position below:
Job Title: Head of Marketing
Location: Lagos
Job Type: Full Time
Job Summary
The job holder is responsible for the marketing of all our brands in all the company`s markets. They will be tasked to help maximize market share and revenues.
This is a role that requires the candidate to be an effective influencer, as they will need to ensure that brand partners are investing their marketing resources in initiatives and activities that will drive brand awareness and ultimately increase traffic and company sales.
As this position will manage franchise partner' relations it will include regular market visits. They must be experienced in strategic marketing development and consulting.
Job Responsibilities
Strategic Development and Implementation:
Provides ongoing leadership, ensuring brand standards and key brand initiatives are communicated, remain current, and adjusted as appropriate to remain relevant in other cultures/environments Develop and implement strategies to drive online traffic to the company's owned and partner e-commerce platforms
Develop and manage digital marketing campaigns utilising a range of techniques including
Develop and implement social media strategy for the company
Devise strategies that increase brand loyalty and improve market share.
Monitor effective utilization of brands marketing budget to achieve the set objectives
Growing and developing the in-house marketing team.
Responsible for developing and managing the marketing budget.
Marketing Operations:
Evaluates, reviews and approves all marketing plans and calendars
Evaluates marketing plans and tracks marketing spend, providing regular updates to internal constituents Reviews and approves consumer-facing marketing materials to ensure adherence to brand standards.
Provides guidance on media plans, digital, PR, and social media ideas and participates with partners in agency meetings & presentations
Assists in the localization of marketing materials as appropriate
Reviews and approves international materials to ensure adherence to brand standards.
Provides guidance on web and social media ideas and programming.
Ability to design, implement and analyze qualitative and quantitative research studies
Manages international & franchise marketing fund
Tracks marketing spend per country (market), providing regular updates to internal constituents
Keeps track of all projects and plans them to ensure appropriate use of resources on a timely manner
Manage quarterly franchisee meetings and annual "brand summit" meetings.
Leads design, creative and production within internal teams; leads external agencies.
Facilitates sharing of best practices across board.
Customer Relations Management:
Manage online brand and product engagement to raise awareness
Measure & analyse consumer insights to help improve brand position & consumer sentiments.
Manage relationships with creative agency partners as well as cross-functional teams and external vendors.
Evaluate customer research, market conditions and competitor data
Conducting market research and staying abreast of competitor positioning.
Collaborate with graphics/design team to constantly improve the outlook of the company's website
Sales Performance:
Supervise tracking of conversion rates, whilst making improvements to each site based on needs
Liaising with sales team to align objectives towards revenue generation.
Generate and close leads for partnership and barter deals.
Generate and close leads for partnership and barter deals.
Manage PR team and various content creators to come up with campaigns and content that helps drive sales.
Develop weekly sales performance reports to depict company performance across all digital platforms and campaigns and assess against goals(ROI and KPI)
Review departmental performance and participate in peer review sessions
Tracking and measuring effectiveness of various marketing campaigns.
Job Requirements
A good First Degree in Marketing, Business studies, and relates courses
Possession of a Post graduate degree in Marketing/Business Administration or related degree is an added advantage
Minimum of 5-7 years brand, digital, and marketing experience; restaurant industry a plus, advertising agency
knowledge/experience a plus
Membership of the CIM, NIMC, APCN, AAN, or any other related professional qualification is required.
Demonstrable experience in developing efficient strategy and business plans for all marketing operations (branding, product promotion etc.)
Knowledge and application of traditional and digital marketing tools
Ability to manage multiple partners (countries) that requires different levels of support.
Application Closing Date
Not Specified.
How to Apply
Interested and qualified candidates should:
Click here to apply online
If you think this job post can be helpful to someone else, please share it on Facebook, Twitter, WhatsApp, LinkedIn or Telegram using the buttons below. Thank you