IBILE Microfinance Bank Limited is a financial institution that focused on ensuring that the poor take part in their economy by providin them with access to the financial products and services they need to help them build wealth and achieve their goals. See more IBILE Microfinance Bank Limited Job vacancies Here >>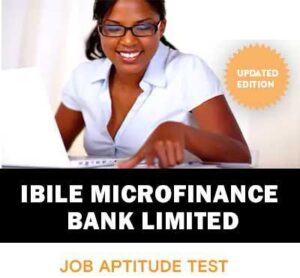 IBILE Microfinance Bank Recruitment is to fill the position below:
Job Title: Head, Agency Banking / Deposit Mobilization
Location: Lagos
Employment Type: Full-time
Job Description
The Head, Agency Banking will manage the bank's agent banking and financial inclusion strategy through the use of approved third party agents to expand the market footprints and customer touch points thereby increasing penetration, revenue and profitability of the agent networks.
The job holder will be responsible for leading the Agency Banking officers on day-to-day management and roll out to help rapidly scale banks' agent banking services.
Responsible for facilitating business growth through sale of liability (Deposits) products including building profitable client relationships, maintaining effective deposit portfolio management and standards of service quality in compliance with applicable policies and procedures.
Key Responsibilities
Work with the strategy department to design and implement the Agent roll out plan to enhance the achievement of the bank's financial inclusion goals.
Responsible for the achievement of Agent Banking targets and overall business performance of the Bank's Agent Network.
Responsible for the growth and expansion of the Bank's Agent Network Monitor and ensure adherence to internal policies and all Regulatory/compliance policies related to Agent Banking Work with all critical stakeholders to ensure successful implementation of the Agent Banking and Financial Inclusion strategies of the Bank
Work with all relevant stakeholders in ensuring the successful implementation of marketing, sales and activation plans.
Work with the Strategy department to continually create/innovate products for sustainable growth in Target customer's Wallet and market share.
Design initiatives, promos and market activations that will increase transactions and lead to increased competitiveness and brand visibility.
Identify strategic partnerships and alliances and partnerships to grow market share and brand visibility.
Lead the Bank Agent Channels Officers to grow a sustainable agent network. Be the primary contact person for all Agent issues.
Oversee the training and development of quality Agency banking network. Provide performance, Service and market/competitor's analytics reports regularly.
Manage stable partnerships focusing on strategy and Bank business growth. Work with Communication to implement agent promotion campaigns as planned.
Work closely with the Deposits Mobilizations teams in achieving the bank's deposit target.
Design of Operational marketing material – support the design and implementation of advertising, and operational marketing materials.
Cross sells all the savings accounts accordingly and other alternative delivery channel products as applicable against given targets on specific assigned operational areas.
Develop and Identify suitable savings promotion activities according to area specification and prepares the action plan.
Drive activities, leads the team and the follow up process for opening accounts for potential customers of the bank especially customers mobilized through market storm.
Develop and implement strategies to grow/retain business.
Customer value management- analyzes customer demographics and behavioral trends, and develop appropriate campaign strategies in response to the results of this analysis.
Responsible for ensuring adequate brochures and savings promotional materials at the branches;
Channel development – assess the performance of various market channels in the bank, and track developments.
Responsible for making appropriate recommendations on future business initiatives. In addition, track developments in other channels.
Brand – undertake research on brand performance that supports its evolution.
Ensure proper performance management metrics is established.
Background / Work Experience
Candidates should possess a Bachelor's Degree qualification with 4 – 7 years' general banking experience of which 4 – 5 years should have been in a leadership role in Digital Banking.
Experience in product development & launch. Previous experience in Microfinance, agent and retail banking. Experience in market research, analysis and business development.
Experience in business strategy formulation and execution with verifiable track records.
Competencies for the Roles: Business skills, financial and data analysis and business performance management with strong marketing background.
People management, organizational and leadership abilities. Team player and ability to work with minimum supervision.
Resilient, Solutions oriented mind set and creative thinking abilities. A good understanding of Risk, Compliance policies and procedures.
Demonstrated consistent high performance in roles held.
Excellent written and verbal communication skills with ability to network, generate new business and develop strong business relations.
Application Closing Date
25th July, 2023.
How To Apply:
Interested and qualified candidates should send their Cover Letter and Resume to: careers@ibilemfb.com using the Job Title as the subject of the mail.
If you think this job post can be helpful to someone else, please share it on Facebook, Twitter, WhatsApp, LinkedIn or Telegram using the buttons below. Thank you