MTN Nigeria's vision is to lead the delivery of a bold, new digital world to our customers and our purpose is to make Nigerian lives a whole lot BRIGHTER by delivering relevant, accessible, high-quality telecommunications solutions that put them in control. See more MTN Nigeria Job vacancies Here >>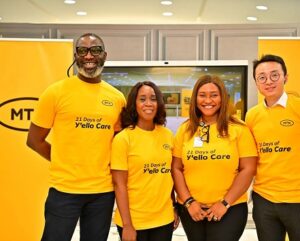 MTN Nigeria Job Recruitment is to fill the position below:
Job Title: Engineer – Transmission Core Planning, Network
Job Identification: 1098
Location: Ikoyi, Lagos
Job Schedule: Full time
Job Category: MTN Level 2
Reports To: Manager – Core Transmission Services
Division: Networks
Mission
To plan, optimize and manage MTNN's core transmission capacity and services (especially in the Metro & Switch) to ensure achievement of MTNN's network rollout objectives as per the annual and strategic business plan.
Description
Plan and design core transmission network capacity for mobile traffic and Enterprise services
Plan and design network protection on critical transmission links
Ensure adequacy of redundancy of critical transmission network elements
Monitor capacity utilization and proactively release expansion plans for links approaching set threshold
Provide detailed network diagram depicting the status of the core transmission network
Plan packet synchronization, DCN and QoS mapping for MTN Converged Transport Network
Support in the expansion of network capacity ensuring it takes place on schedule and as planned
Ensure optimal capacity utilization and transmission asset optimization.
Requirements
Education:
A First Degree / HND in Electrical Engineering or a related discipline
Fluent in English.
Experience:
3 – 7 years of experience especially in Telecoms industry, including:

Excellent knowledge of network transmission capacity planning, optimization and expansion for mobile and enterprise services backhaul using various multivendor network management systems such as Huawei/NCE-IP & Transport, Nokia/NFM-Packet & Transport, ZTE/Net-Nueman).
Experience in routing/switching technologies and services planning based on the following protocols: IS-IS, OSPF, BGP, SR, Layer2/Layer3 VPNs etc.
Good knowledge of Transport technologies (MPLS, Carrier Ethernet, OTN, and DWDM), link protection schemes (LAG, MSTP, APS, SNCP, ERP) and network synchronization planning.
Proficient in the use of Microsoft office tools (word, excel, project and power-point) for data analysis, reporting and presentation purposes.
Application Closing Date
21st June, 2023.
How To Apply:
Interested and qualified candidates should:
Click here to apply online
Note: Eligible Females and People with Disabilities are encouraged to apply.