9mobile Nigeria is a proudly Nigerian private limited liability company empowered by a Unified Access Service License from the Federal Government of Nigeria in March 2007 to deliver a broad range of telecommunication services nationwide across the voice, data and enterprise services spectrum. See more 9mobile Nigeria Job vacancies Here >>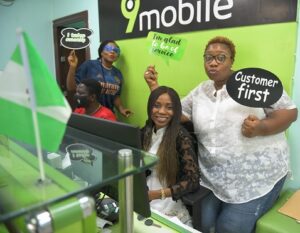 9mobile Nigeria Recruitment is for the Position below:
Job Title: Director – Learning & Employee Engagement
Job ID: IRC5169
Location: Lagos
Job Summary
Lead, plan and support the design and implementation of the Knowledge Management function.
Develop the knowledge management plan, goals and priorities for knowledge acquisition, contribution, and deployment
Oversees HR functions, including Employee Relations; Learning & Knowledge Management; Culture and Employee Engagement
Principal Functions
Tactical:
Develop and implement strategic plans for learning and development, including identifying training needs and developing training programs to address them
Assesses program effectiveness utilizing appropriate metrics.
Develop and implement a succession plan for key positions in the organization, including identifying future leaders and creating development plans for them
Drive employee engagement by developing innovative programming on multiple platforms including organizational analysis and change programing, onboarding initiatives, career development planning, management training, employee wellness, mentoring programs, etc.
Create organizational culture through communication strategies that align with company values
Collaborate with senior leadership to develop training programs in areas such as leadership development
Manages Organizational Development program, including organizational change initiatives, employee development, retention programs, diversity and inclusion, and leadership development.
Review new technologies for training applications and recommending effective uses to leadership
Establish and maintain relationships with key internal and external stakeholders.
Operational
Provide overall guidance and direction in the execution of the unit's functions and activities
Develop and implement management training programs for all levels of management including management onboarding, supervision best practice, performance management and leadership development.
Develop, recommend, and administer policies, procedures, and processes in support of Organizational Development, Human Resources & equity; implements and monitors compliance with approved policies, procedures, and processes, utilizing a systematic approach.
Conduct regular global and local best practice review and provide the business units (management/line managers) with information on best practice in ..
Provide EMTS business units managers with information & solutions regarding labour trends and movements.
Continuously review the activities of the unit to identify improvement opportunities.
Review and authorize key expenditures/transactions of the unit in line with approved departmental budget and authority limit.
Plan and manage the human and material resources of the unit to optimize performance, morale and enhance productivity.
Provide leadership and guidance to team members and manage team members' performance towards the achievement of overall team objectives.
Prepare and submit periodic management reports on the activities of the unit for management decision making.
Perform any other duties as assigned by the Chief Human Resources Officer.
Requirements
First Degree from a recognized university.
Postgraduate degree/MBA/CIPD/SHRM/CIPM is required
Nine (9) to Twelve (12) years work experience with at least three (3) years at managerial level.
Experience,Skills & Competencies
Knowledge:
Change Management/Labour laws
Competency Definition/Profiling and Management
Skills:
Strategic thinking
Communication
Decision Making
Leadership and People Management
Behaviour
Passion for Excellence
Integrity
Empowering people
Growing people
Team work
Customer Focus.
Application Closing Date
Not Specified
How to Apply
Interested and qualified candidate should:
Click here to apply online
If you think this job post can be helpful to someone else, please share it on Facebook, Twitter, WhatsApp, LinkedIn or Telegram using the buttons below. Thank you