IBILE Microfinance Bank Limited is a financial institution that focused on ensuring that the poor take part in their economy by providin them with access to the financial products and services they need to help them build wealth and achieve their goals. See more IBILE Microfinance Bank Limited Job vacancies Here >>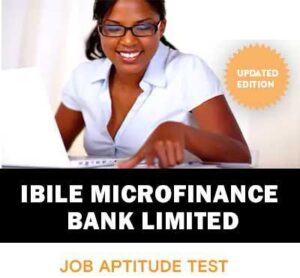 IBILE Microfinance Bank Recruitment is to fill the position below:
Job Title: Deposit Mobilization / Savings Officer
Location: Alausa, Epe, Sangotedo, Agbara & Ikorodu – Lagos
Job Objective
Building and managing strategic relationships for fixed deposit customers, serving as the single point of contact for new business as well existing portfolios. Manage the funds of HNI (high net worth) customers.
Understanding the key trends related to the client's industry or domain and providing value-added solutions / suggestions to the client.
Demonstrating an understanding of the client's domain of activity and responding to the customer's high priority needs for service and support.
Duties and Responsibilities
To drive the deposit mobilization arm of the business.
Develop and implement a business plan for identified target markets with identified volumes to drive high volumes of new deposits to the company.
Develop and implement a business development plan to improve the deposit mobilization and retention of deposit and also manage withdrawal attrition.
Develop and maintain relationships with corporate clients and individual depositors
Build new relationships with existing customers and new customers
Ensure fixed deposit account opening form is duly completed and registered.
Advice client of deposit status.
Innovate and develop attractive value-added deposit products together with the Business Development to achieve the overall deposit targets.
Innovate and improve ways of rewarding depositors in terms of interest earning on ordinary deposit, and fixed deposits.
Liaise with Deposit Mobilization Team Lead to ensure that, due diligence is always enforced to meet the requirements of the regulator and also protect the interest of both the depositors and the organization.
Qualification & Experience
Bachelor's Degree in Banking & Finance, Marketing and any other related course
1-2 years minimum experience as deposit mobilization officer
Required Skills & Competencies (technical and soft skills):
Target and results oriented and willing to take responsibilities
Possess excellent communication and presentation skills, with a basic level of sophistication in personal interaction and grooming
Have the ability to initiate and pursue projects approved by management on his initiative
Confident personality with good analytical and problem-solving skills.
Application Closing Date
25th July, 2023.
How To Apply:
Interested and qualified candidates should send their Cover Letter and Resume to: careers@ibilemfb.com using "Deposit Mobilization Officer" as the subject of the mail.
Note: Candidate residing around Ikorodu, Agbara, Sangotedo, Alausa, Trade-fair, Festac and Epe will be given preference.
If you think this job post can be helpful to someone else, please share it on Facebook, Twitter, WhatsApp, LinkedIn or Telegram using the buttons below. Thank you