PalmPay Limited is a subsidiary of Transsnet Group is a Mobile Money Operator in Nigeria. The Company is licensed by the Central Bank of Nigeria and insured by NDIC. See more Palmpay Limited Job vacancies Here >>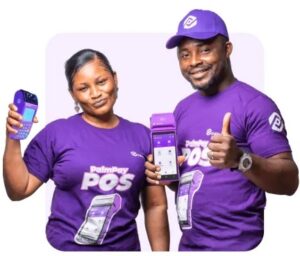 PalmPay Limited Recruitment is to fill the position below:
Job Title: Business Manager (Pay With Transfer)
Location: Ikeja, Lagos
Job Type: Full-time
Job Description
The Business Manager is responsible for overseeing and managing the sales activities within a designated geographic area.
Accountable for achieving sales targets, driving revenue growth, and ensuring customer satisfaction.
The role involves managing a team of sales representatives and collaborating with other departments to develop and execute effective sales strategies.
Key Responsibilities
Sales Management:
Develop sales plans and strategies to achieve or exceed sales targets within the assigned area.
Monitor sales performance and provide guidance and support to the sales team to meet their individual and team objectives.
Identify areas of improvement and implement corrective actions to optimize sales effectiveness.
Team Leadership:
Recruit, train, and motivate a high-performing sales team.
Set clear performance expectations, provide regular feedback, and conduct performance evaluations.
Foster a positive and collaborative work environment to promote teamwork and achieve sales goals.
Territory Management:
Analyze market trends, customer needs, and competitors' activities to identify business opportunities.
Allocate sales territories and set sales targets for team members based on market potential and business objectives.
Ensure effective coverage of the assigned area by monitoring sales activities and implementing territory management strategies.
Relationship Building:
Build and maintain strong relationships with key customers, distributors, and other relevant stakeholders.
Collaborate with the marketing department to develop promotional strategies and support marketing campaigns.
Resolve customer issues and complaints in a timely manner to maintain customer satisfaction and loyalty.
Reporting and Analysis:
Prepare regular sales reports, forecasts, and performance metrics for management review.
Analyze sales data to identify trends, opportunities, and potential challenges.
Provide insights and recommendations to improve sales performance and achieve business objectives.
Qualifications and Requirements
Bachelor's Degree in Business, Marketing, or a related field (or equivalent experience).
Proven experience in sales management, preferably in FMCG, Banking Industry and Fintech.
Strong leadership and team management skills.
Excellent communication and interpersonal skills.
Results-oriented mindset with a track record of meeting or exceeding sales targets.
Analytical and problem-solving abilities.
Proficiency in using sales management software.
Availability to travel within the assigned area as needed.
Application Closing Date
Not Specified.
How To Apply:
Interested and qualified candidates should:
Click here to apply online
If you think this job post can be helpful to someone else, please share it on Facebook, Twitter, WhatsApp, LinkedIn or Telegram using the buttons below. Thank you