RevenStrat is a business consulting and advisory firm that specializes in helping companies tackle their most complex strategic challenges. Our team is dedicated to ensuring that our clients can succeed a disruptive market forces and avoid critical business mistakes that can affect their business. See more RevenStrat Job vacancies Here >>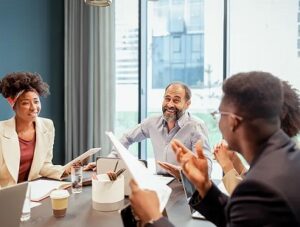 RevenStrat Job Recruitment is to fill the position below:
Job Title: Assistant Admin / Storekeeper
Location: Yaba,Lagos
Employment Type: Full-time
Responsibilities
Provide general administrative support, including data entry, filing, and documentation.
Manage incoming calls, emails, and other communications.
Assist in scheduling meetings, appointments, and travel arrangements.
Prepare reports, presentations, and correspondence as needed.
Coordinate and maintain office supplies and equipment inventory.
Support the planning and execution of company events and activities.
Assist with receiving and inspecting incoming shipments.
Maintain accurate inventory records and stock counts.
Organize and arrange merchandise within the store or warehouse.
Process sales orders and fulfill customer requests.
Ensure proper storage, labeling, and categorization of goods.
Perform periodic stock checks and reconcile discrepancies.
Maintain cleanliness and orderliness of the store or warehouse.
Collaborate with team members to ensure smooth store operations.
Possess strong organizational, communication, and problem-solving skills.
Proficiency in Microsoft Office Suite and attention to detail.
Basic understanding of inventory management principles and procedures.
Ability to work independently and within a team.
Physical capability to perform tasks such as lifting and moving stock (if required).
Requirements
High School Diploma or equivalent (required). Additional relevant certifications or coursework is a plus.
 1 – 4 years work experience.
Previous experience in administrative support or storekeeping is preferred.
Strong organizational and time management skills, with the ability to prioritize effectively.
Excellent written and verbal communication skills.
Proficiency in Microsoft Office Suite (Word, Excel, PowerPoint, Outlook).
Detail-oriented with a high level of accuracy in record-keeping.
Ability to work both independently and collaboratively within a team.
Strong problem-solving skills and the ability to handle challenges effectively.
Basic understanding of inventory management principles and procedures.
Familiarity with FMCG industry and products is advantageous.
Physical ability to perform tasks such as lifting and moving stock (if required).
Must be living in Yaba or its environment.
Salary
N30,000 – N40,000 / month.
Application Closing Date
19th July, 2023.
How To Apply:
Interested and qualified candidates should send their CV / Resume to: humanresources@revenstrat.com using the Job position as the subject of the email.
If you think this job post can be helpful to someone else, please share it on Facebook, Twitter, WhatsApp, LinkedIn or Telegram using the buttons below. Thank you