Mercy Corps is a leading global organization powered by the belief that a better world is possible. See more Mercy Corps Nigeria Job vacancies Here >>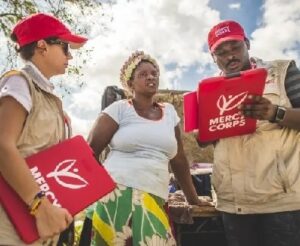 Mercy Corps Nigeria recruitment is to fill the position below:
Job Title: Administrative Officer
Location: Maiduguri, Borno
Employment Type: Full-time, Regular
Supervisory Responsibility: Administrative Assistant, Maiduguri Office
Reports Directly To: Operations Coordinator
Works Directly With: Finance, Operations, and Programs MCN team members
Program / Department Summary
Mercy Corps has been present in Nigeria since 2012, focusing its interventions on women's empowerment, economic development and conflict mitigation.
With the insurgency spilling over from the northeast of Nigeria and causing the displacement of thousands of individuals, Mercy Corps interventions in Nigeria are implemented in a conflict and gender-sensitive manner.
The Operations department is committed to implementing and maintaining the highest standards of efficiency and integrity in daily administration, logistics, procurement, HR, asset management and IT for field offices in Nigeria.
The overriding objective for all Mercy Corps operations activities is the prompt and effective provision of on-time solutions to Mercy Corps' beneficiary populations in compliance with Mercy Corps and donor policies, procedures, regulations, and specifications.
General Position Summary
The Administrative Officer will oversee admin support functions for the Mercy Corps Maiduguri office. This will include the Abuja office and expatriate guesthouse administration.
Coordination of travel/accommodation arrangements for staff.
Making arrangements for all training, workshops, meeting and general day-to-day administration in terms of compound and equipment maintenance and repairs.
Follow up with the Finance Unit to ensure that suppliers' accounts are settled on time.
Ensure that all activities are accurately documented and arranged.
Secure and systematic filing of all administrative-related documents, contracts, etc.
Guide, train and supervise staff of the unit.
Direct Supervision over Administrative Assistant
Responsible for international travel, domestics travel and hotel bookings, Office/guest house Cleaner and performance development plans for all staff under supervision.
Act in charge of administration in all Maiduguri and DFOs including routine, staff meetings, and sometime representation at local government offices as advised by management.
Monitor and control administrative/office expenses and budget.
Collate office-specific updates for routine.
Essential Job Responsibilities
Administration:
Ensure full compliance with all relevant Mercy Corps and donor guidelines; keep up to date with changing policies and guidelines.
Ensures Mercy Corps Office and guesthouse compound are well maintained and suitable for working and living.
Identify and ensure the provision of necessary training and guidance to administrative national staff
Ensure that all operations activities are accurately documented and arranged.
Coordinate with Mercy Corps managers regarding the relations with local authorities; liaise with government offices, UN agencies, NGOs, as required
Act as a liaison person for visa & work permits for expatriate staff and visitors.
Facilitates and process visa & work permits for expatriate staff and visitors.
Manage Master supplier agreements and other service contracts in admin.
Property / Facility Management:
Ensure all Mercy Corps rented property ( Offices, Guesthouses, expatriates' Apartments) are properly managed.
General office maintenance including safety & security, and utilities for properties.
Maintain general inventory for the Abuja office, expatriate houses and guesthouses
Ensure that all Mercy Corps property lease agreements and business transactions/relationships are transparent and in compliance with Nigeria law and Mercy Corps/donor policies
Keep proper and updated key register in the key box for all resident and office keys.
Visas / Travel:
Process all visa applications and timely renewal of all visas for MCN international staff and visitors.
Prepare monthly updates of the visa tracker on google drive, and share them with relevant personnel.
Maintains visitor tracking matrix on monthly bases.
Book and purchase commercial air tickets for all MCN staff, partners, consultants, visitors, etc. (this requires the compliance of US Flags Carriers)
Book all travellers on Heli and fixed-wing through the UNHAS platform.
Oversee international flight reservations in coordination with Admin Assistant.
Establish good working relationships with different airlines on behalf of Mercy Corps.
Review invoices received from airlines and travel agents (where applicable),and prepare payments as appropriate.
Accommodation:
Make hotel reservations for all travellers both local and international, and make other relevant travel arrangements, including sharing of welcome pack and telephone with the incoming visitors.
Coordinate with logistics to make sure all logistics arrangements are made and communicated to MC visitors and staff.
Review hotel invoices for those hotels with which Mercy Corps has an agreement and prepare payments.
On a regular basis, visit hotels with which Mercy Corps has an agreement with to make sure that MC visitors are getting the right quality services.
Perform monitoring of preferred hotels and travel agents in Maiduguri and field.
Ensure hotel accommodation payment is made as appropriate and timely.
Organizational Learning:
As part of our commitment to organizational learning and in support of our understanding that learning organizations are more effective, efficient, and relevant to the communities they serve we expect all team members to commit 5% of their time to learning activities that benefit Mercy Corps as well as themselves.
Accountability to Beneficiaries:
Mercy Corps team members are expected to support all efforts towards accountability, specifically to our beneficiaries and to international standards guiding international relief and development work, while actively engaging beneficiary communities as equal partners in the design, monitoring and evaluation of our field projects.
Knowledge and Experience
BA / B.Sc Degree in a relevant field.
Minimum of 2 years field experience in administrative or operational support functions, including procurement, logistics and human resources management, with a humanitarian non-governmental organization, including two years in a field emergency/relief setting.
Experience in setting up and managing administration and logistics management systems.
Demonstrated understanding of complex emergencies, related security concerns, and appropriate responses to such emergencies.
Excellent negotiation, representation skills and the ability to work comfortably with an ethnically diverse staff.
Demonstrated attention to detail, ability to follow procedures and meet deadlines.
Demonstrated ability to live, work and solve problems independently and effectively in extremely remote locations.
Demonstrated ability to effectively manage multiple teams in different locations in a high-pressure environment.
Strong computer skills in Microsoft Office applications required.
Excellent verbal and written English communication skills required, and good knowledge of local languages is desirable.
Success Factors
Flexibility and creativity in planning and problem-solving.
Ability to take initiative, learn quickly and be accountable for results.
Ability to understand the larger picture while remaining focused on the details.
Awareness of and sensitivity to multicultural international development work
Even temperament and a good sense of humour.
Security awareness.
Ethics and Integrity:
Mercy Corps Team members represent the agency both during and outside of work hours when deployed in a field posting or on a visit/TDY to a field posting.
Team members are expected to conduct themselves in a professional manner and respect local laws, customs and MC's policies, procedures, and values at all times and in all in-country venues.
Diversity, Equity & Inclusion:
Achieving our mission begins with how we build our team and work together. Through our commitment to enriching our organization with people of different origins, beliefs, backgrounds, and ways of thinking, we are better able to leverage the collective power of our teams and solve the world's most complex challenges.
We strive for a culture of trust and respect, where everyone contributes their perspectives and authentic selves, reaches their potential as individuals and teams, and collaborates to do the best work of their lives.
We recognize that diversity and inclusion is a journey, and we are committed to learning, listening and evolving to become more diverse, equitable and inclusive than we are today.
Equal Employment Opportunity:
Mercy Corps is an equal-opportunity employer that does not tolerate discrimination on any basis. We actively seek out diverse backgrounds, perspectives, and skills so that we can be collectively stronger and have a sustained global impact.
We are committed to providing an environment of respect and psychological safety where equal employment opportunities are available to all.
We do not engage in or tolerate discrimination on the basis of race, colour, gender identity, gender expression, religion, age, sexual orientation, national or ethnic origin, disability (including HIV/AIDS status), marital status, military veteran status or any other protected group in the locations where we work.
Safeguarding & Ethics:
Mercy Corps is committed to ensuring that all individuals we come into contact with through our work, whether team members, community members, program participants or others, are treated with respect and dignity.
We are committed to the core principles regarding the prevention of sexual exploitation and abuse laid out by the UN Secretary-General and IASC and have signed on to the Interagency Misconduct Disclosure Scheme.
We will not tolerate child abuse, sexual exploitation, abuse, or harassment by or of our team members.
As part of our commitment to a safe and inclusive work environment, team members are expected to conduct themselves in a professional manner, respect local laws and customs, and adhere to the Mercy Corps Code of Conduct Policies and values at all times. Team members are required to complete mandatory Code of Conduct e-learning courses upon hire and on an annual basis.
Application Closing Date
21st July, 2023.
How To Apply:
Interested and qualified candidates should:
Click here to apply online
Note
Applicants should have their CVs and Cover Letters in one document addressing the position requirements.
Female candidates who are qualified are strongly encouraged to apply.
If you think this job post can be helpful to someone else, please share it on Facebook, Twitter, WhatsApp, LinkedIn or Telegram using the buttons below. Thank you