Transsion Holdings is a mobile phones manufacturing company based in Shenzhen, China. See more Transsion Holdings Job vacancies Here >>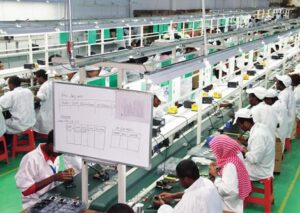 Transsion Holdings Recruitment is to fill the position below:
Job Title: User Development Specialist
Location: Lagos
Employment Type: Full-time
Job overview
Transsion is committed to becoming the most popular provider of smart devices and mobile services for consumers in global emerging markets.
The company is best known for its high-quality multi-brand smart devices.
Mobile phones are its core products, while it also offers mobile Internet services based on a self-developed operating system where this position belongs to.
Responsibilities
Initiate user activities to maintain the ripple effect of user relationships and create a sense of brand aspiration. In charge of online and offline event with Poppin key users from end to end.
Establish one-on-one communication with Poppin key users to create delightful experiences that surpass their expectations, empowering their content generation and interactions on Poppin.
Pair up with Poppin key users and regularly care about users' life experiences and continuously improve user engagement and activation rate.
Utilize social media such as IG, Youtube, Twitter, and Facebook to assist in discovering/identifying/tracking user-generated content.
Assist in maintaining existing users to improve user satisfaction.
Qualifications
Have one or more certain GenZ's hobbies (such as sports and fitness, music and dance, anime, etc.), and is able to organize user activities around those.
2+ years experience in event planning and activations with content generation.
Directing/film production background and experience preferred.
Competent in video production and graphic design skills, proficient in using tools such as Photoshop or AI.
Able to provide excellent user experience in highly active environments and maintain high energy levels.
Possess a user-oriented mindset, able to anticipate user needs and provide solutions.
Strong execution and stress resistance, as well as a strong sense of responsibility and problem-solving abilities. Skilled in communication, with excellent cross-department coordination abilities and teamwork spirit
Outgoing personality, active thinking, curious about new things, and have creativity and imagination.
Application Closing Date
Not Specified.
How to Apply
Interested and qualified candidates should forward their CV to: chi.obidigbo@transsion.com using the Job Title as the subject of the email.
If you think this job post can be helpful to someone else, please share it on Facebook, Twitter, WhatsApp, LinkedIn or Telegram using the buttons below. Thank you