Enov8 Solutions Limited is an African Cybersecurity & IT company that was setup in 2018 with head office strategically planted in the heart of Lagos Nigeria. Enov8 Solutions Limited believe that business process automation is a business challenge and should be pursued as interplay of seven business levers namely Strategy, People, Process, Metrics, Applications, Data and architecture. At Enov8 we provide IT solutions using either OEM products of our partners or our proprietary solutions or a mix. Start a new career journey today at Enov8 Solutions Limited.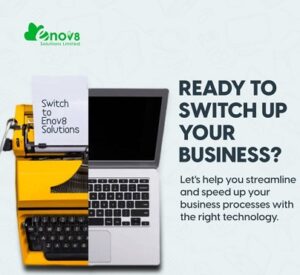 Enov8 Solutions Limited recruitment is to fill the position below:
Job Title: Systems Administrator
Location: Lagos
Employment Type: Full-time
Job Summary:
We are seeking a highly skilled System Administrator to join our technical team.
The System Administrator will be responsible for maintaining and managing our company's computer systems and networks, ensuring their stability, integrity, and efficient operation.
This role requires strong technical expertise, problem-solving skills, and the ability to work independently and collaboratively with the IT team.
Responsibilities:
Install, configure, and maintain operating systems, software applications, and system management tools.
Monitor and maintain computer systems, networks, and servers to ensure optimal performance, reliability, and security.
Perform regular system backups and ensure data restoration capabilities.
Respond to system and network incidents, troubleshoot issues, and resolve problems in a timely manner.
Identify and implement security measures to protect systems and data from unauthorized access or breaches.
Manage user accounts, permissions, and access rights across various systems and applications.
Collaborate with the IT team to plan and implement system upgrades, migrations, and enhancements.
Evaluate and recommend hardware and software solutions based on business requirements and industry best practices.
Maintain documentation of system configurations, procedures, and troubleshooting steps.
Provide technical support and guidance to end-users, addressing their system-related queries and issues.
Stay up-to-date with emerging technologies, industry trends, and best practices in system administration.
Qualifications
Bachelor's degree in Computer Science, Information Technology, or a related field.
Proven work experience as a System Administrator or similar role in a technical environment.
Strong knowledge of Windows and Linux operating systems, virtualization technologies, and networking concepts.
Experience with server administration, Active Directory, and group policy management.
Proficiency in scripting languages (e.g., PowerShell, Python) for automation and system management tasks.
Familiarity with cloud computing platforms (e.g., AWS, Azure) and their administration.
Solid understanding of security principles and best practices in securing systems and networks.
Excellent problem-solving skills and the ability to troubleshoot complex technical issues.
Strong communication and interpersonal skills, with the ability to work effectively in a team environment.
Application Closing Date
31st July, 2023.
Method of Application
Interested and qualified candidates should send their CV to: careers@enov8solutions.tech using the Job Title as the subject of the mail.