Abuja Clinics is a global standard health facility focused on providing all your health needs, not only curative but also preventive. We boast of cutting edge equipment which aid in the diagnosis and treatment of medical and surgical conditions. See more Abuja Clinics Job vacancies Here >>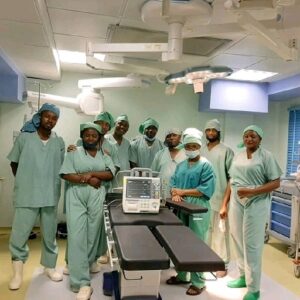 Abuja Clinics recruitment is to fill the position below:
Job Title: Storekeeper
Location: Abuja (FCT)
Employment Type: Full-time
Essential Duties and Responsibilities
Maintain receipts, records, and withdrawals of the stockroom
Receive, unload, and shelve supplies
Perform other stock-related duties, including, packing, and labeling supplies Inspect deliveries for damage or discrepancies; report those to appropriate officer for reimbursements and record keeping
Rotate stock and coordinate the disposal of surpluses
Ensure adequate record keeping and manage all documentation to confirm proper stock levels and maintain inventory control.
Requirements Minimum Qualifications
Should have OND in Accounting / Banking and Finance or related courses with at least 3 years of experience in a pharmaceutical outfit preferably. experience in storekeeping, inventory control, or recordkeeping
Knowledge, Skills and Abilities:
Knowledge of proper bookkeeping and inventory management Familiarity with standard concepts and best practices in a stockroom or warehouse environment
Analytical mind with ability to make accurate mathematical computations
Excellent written and verbal communication skills
Competencies in data entry, analysis, and management
Keen attention to detail and ability to effectively manage time
Skills to operate common office equipment Performs related work as assigned.
Application Closing Date
30th August, 2023.
How To Apply:
Interested and qualified candidates should send their CV to: hr@abujaclinics.com using the Job Title as the subject of the mail.
Or
Click here to apply online
If you think this job post can be helpful to someone else, please share it on Facebook, Twitter, WhatsApp, LinkedIn or Telegram using the buttons below. Thank you