Ascentech Services Limited is an absolute Human Resource Solution Provider incorporated in 2013 with its Head Office in Lagos, Ni3geria. See more Ascentech Services Limited Job vacancies Here >>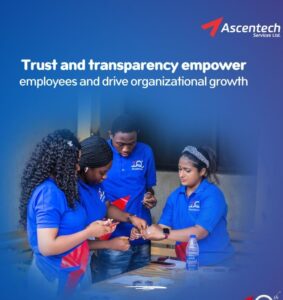 Ascentech Services Limited Recruitment is to fill the position below:
Job Title: Human Resources Manager
Location: Mowe, Ogun
Employment Type: Full-time
Industry: Logistics
Responsibilities
Developing and implementing policies and procedures to ensure that the organization's staffing needs are met.
Analyze business plans to determine likely future staffing needs.
Maintain comprehensive organization charts and staffing lists to identify current staffing and vacancy data.
Develop planning models to enable future staffing needs to be determined accurately.
Advise the organization on the staffing implication of new policies products and services.
Develop and maintain an information system to ensure the accurate collection and maintenance of staffing data.
Develop procedures to ensure that all data is maintained in an accurate, up-to-date, and confidential manner, support the organization's policies on diversity and equal opportunities, and comply with the Data Protection Act.
Implementation of strategic policies of the organization in alignment with Human resources policies.
Manage the staffing process, including recruiting, interviewing, hiring, and onboarding
Ensure job descriptions are up to date and compliant with all local, state, and federal regulations
Develop training materials and performance management programs to help ensure employees understand their job responsibilities
Create a compensation strategy for all employees based on market research and pay surveys; keeps the strategy up to date
Investigate employee issues and conflicts and bring them to resolution
Ensure the organization's compliance with local, state, and federal regulations
Use performance management tools to provide guidance and feedback to the team
Ensure all company HR policies are applied consistently
Maintain company organization charts and employee directory
Partner with management to ensure strategic HR goals are aligned with business initiatives
Maintain HR systems, along with payroll administration and management processes.
Conduct performance and salary reviews
Provide support and guidance to HR staff, Analyze trends in compensation and benefits
Design and implement employee retention strategies
Maintaining control of staffing levels and participating in identifying, designing, and facilitating training programme.
Proactive in any industrial relations matters and disciplinary issues
Interpretation of Labour Law as applicable to employees.
Requirements
MSc / BSc in Human Resource Management or Social Sciences.
8-10 years of working experience
CIPM Chartered.
Good communication and leadership skills.
Application Closing Date
19th August, 2023.
How To Apply:
Interested and qualified candidate should forward their CV to: cv@ascentech.com.ng using the job title as the subject of the mail.
If you think this job post can be helpful to someone else, please share it on Facebook, Twitter, WhatsApp, LinkedIn or Telegram using the buttons below. Thank you