VIP Express Tourism Limited focuses especially on high-quality family vacations as we cherish the close ties that families have. By providing these high-quality holiday lodging services, VIP Express Tourism Limited helps to fortify the ties between families, lessen stress from life's daily responsibilities, and lengthen lives. See more VIP Express Tourism Limited Job vacancies Here >>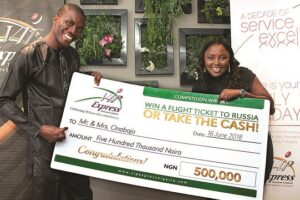 VIP Express Tourism Limited Recruitment is to fill the position below:
Job Title: Field Marketing Manager
Location: Ikeja, Lagos
Employment Type: Full-time
Details
Are you a seasoned person with a passion for guiding and nurturing teams to success? Are you ready to take the reins and make an impact on our Field Marketer's performance? Look no further, an exciting opportunity awaits you as a Field Marketing Manager at our dynamic organization!
The Role
As a Field Marketing Manager, you will play a pivotal role in shaping the success of our Field Marketers, your primary responsibility will be to oversee, guide, and mentor our Field Marketers through consistent field monitoring, supervision, and coaching.
You'll conduct random spot checks on leads surveyed by each Field Marketer batch, ensuring the highest standards of quality and accuracy before loading them into the system.
Key Responsibilities
Lead, mentor, and coach Field Marketers to achieve their targets and maximize potential.
Conduct daily field monitoring and supervision to ensure adherence to our standards.
Perform random spot checks on leads surveyed by BA batch, ensuring accuracy and compliance.
Opening up of new surveying, sales yielding locations
Collaborate with management to provide actionable feedback and implement improvement strategies.
Continuously assess BA performance and suggest training or development opportunities.
Qualifications & Skills
Bachelor's Degree in Marketing, Business or relevant field.
Proven experience in field marketing or sales leadership roles.
Excellent understanding of field monitoring, coaching, and supervision techniques.
Strong analytical skills to assess performance metrics and identify areas for improvement.
Exceptional communication and interpersonal abilities to lead and motivate teams.
Detail-oriented mindset with the ability to maintain high data accuracy standards.
Adaptable nature to thrive in a dynamic and fast-paced environment.
Benefits
Competitive salary (N100,000 – N150,000 Monthly) and performance-based incentives.
Opportunities for career growth and professional development.
A dynamic and collaborative work environment with a supportive team.
Application Closing Date
15th September, 2023.
How to Apply
Interested and qualified candidates should send their Resume to: recruitmentlagos@vipnig.com using "Field Marketing Manager" as the subject of the mail.
Note: Join our team of passionate professionals and play a pivotal role in driving sales success, we look forward to welcoming the next Field Marketing Manager who will be instrumental in our continued growth and success. If you're prepared to take on the challenge of leading our Field Marketer's to excellence, we want to hear from you!
If you think this job post can be helpful to someone else, please share it on Facebook, Twitter, WhatsApp, LinkedIn or Telegram using the buttons below. Thank you