IT Horizons Limited is Africa's accomplice of decision in all things connecting with Information Communication Technology, (ICT). With a staff strength wealthy in information, ability and aptitude, we have everything necessary to go to all your innovation needs. See more IT Horizons Limited Job vacancies Here >>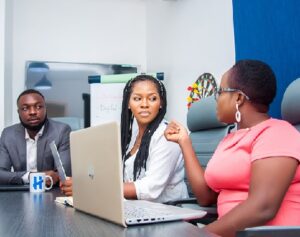 IT Horizons Limited Recruitment is to fill the position below:
Job Title: Executive / Personal Assistant to the Managing Director (MD)
Location: Gbagada, Lagos
Employment Type: Full-time
Job Summary
As the Personal Assistant to the MD/CEO, you will provide support to the Managing Director/CEO, acting with little supervision, anticipating needs while managing the MD/CEO day‐to‐day workflow, filtering and prioritizing various projects and activities, which includes scheduling, Business Development, researching, preparing materials and presentation for meetings, and participating in a wide range of special projects where and when applicable.
The Personal Assistant to the Managing Director will perform, coordinate, manage, oversee and manages the MD/CEO calendar, activities, administrative and business duties while providing an extensive level of support to the MD, which will enable the Managing Director to work more efficiently and effectively towards reaching the organization's goal.
Job Duties
Conserves the MD/CEO time by reading, researching, and routing correspondence; drafting letters and documents; collecting and analyzing information; initiatingtelecommunications.
Responsible for day-to-day management of the MD/CEO's calendar and activities to ensure high value time utilization of the MD/CEO in relationship to external and internal requirements. Brief/update the MD/CEO on upcoming meetings and ongoing obligations.
Responsible for the timely preparation and presentation of materials for key external and internal meetings involving the MD/CEO.
Assist in the prioritization of tasks, activities and issues requiring the MD/CEO attention to ensure they are acted upon in a timely manner and assist in following up on requests made by the MD/CEO
Drafts documents or conducts research to further the MD/CEO's work in program and or development;Attending meetings with the MD/ CEO when and where necessary and representing him byattending meetings in the MD/CEO absence when and where necessary.
Works with Business Development, Communications, Administrative, Project, and other teams to prepare the MD/CEO for external meetings, presentations and events, and ensures timely follow up of all action items. Take notes, record observations and gather contact information of meeting/event as it relates to the MD/CEO.
Prepares briefing memos and relevant updates for the MD/CEO on outstanding projects, identifies issues, develops contingencies and suggests remedies.
Assists with or manages special projects which may include PR, securing high profile speaking engagements, weekly, monthly, quarterly and annual reports, or specific personnel and organizational development initiatives.
Provides regular operating status reports to the MD/CEO as needed, assisting the MD/CEO during operational reviews through follow up on assigned performance tasks and deadlines. Maintains customers' confidence and protects operations by keeping information confidential.
Prepares reports by collecting and analyzing information.
Supports the CEO in dealing with confidential or sensitive personnel or other organizational matters and work with the MD/CEO to foster a success-oriented, positive, high integrity organizational culture.
Maintains executive's appointment schedule by planning and scheduling meetings, conferences, teleconferences, and travel.
Provides historical reference by developing and utilizing filing and retrieval systems; recording meeting discussions.
Maintains MD/ CEO office supplies inventory by checking stock to determine inventory level; engaging with the logistics team, anticipating needed supplies; evaluating new office products; placing and expediting orders for supplies; verifying receipt of supplies.
Maintains professional and technical knowledge by attending educational workshops; reviewing professional publications; establishing personal networks; participating in professional societies.
Contributes to team efforts by accomplishing related results as needed.
Any other duties as assigned by the Managing Director.
Requirements
Candidates should possess an M.Sc Degree with 3 – 5 years relevant work experience.
Application Closing Date
18th September, 2023.
How To Apply:
Interested and qualified candidates should send their CV to: career@ithorizonsgroup.com using the Job Title as the subject of the mail.
If you think this job post can be helpful to someone else, please share it on Facebook, Twitter, WhatsApp, LinkedIn or Telegram using the buttons below. Thank you