Mercy Corps is a leading global organization powered by the belief that a better world is possible. See more Mercy Corps Nigeria Job vacancies Here >>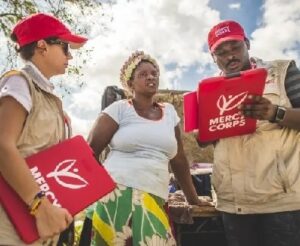 Mercy Corps Nigeria recruitment is to fill the position below:
Job Title: Community Accountability and Reporting Mechanism (CARM) Intern
Location: Jere, Borno
Employment Type: Internship, Full-time
Reports Directly To: Country CARM Officer
Program / Department Summary
Mercy Corps has been present in Nigeria since 2012, focusing its interventions on adolescent girls' empowerment, economic development, and conflict mitigation. With the insurgency spilling over from the Northeast of Nigeria and causing the displacement of millions of individuals, Mercy Corps started its humanitarian response in 2014 to address the rising humanitarian needs.
With funding from institutional donors, foundations and private corporations, Mercy Corps continues to aid meet the basic needs of vulnerable populations in the areas of food security, shelter, water and sanitation, protection, and livelihoods.
With the recognition of the protracted crisis in Northeast Nigeria, Mercy Corps' strategy and expansion plans aim to address the root causes of the crisis and seek to build long-term resilience of communities with integrated programs focusing on the recovery of markets and livelihoods, social cohesion and social protection, and youth empowerment with emphasis on adolescent girls and boys.
With multiple funding streams from large institutional donors and foundations, Mercy Corps' programs in Northeast Nigeria continue to scale up and serve communities by transitioning them from humanitarian aid to early recovery program.
A Community Accountability and Reporting Mechanism (CARM) is an essential part of Mercy Corps' commitment to excellence and integrity, by providing individuals, organizations, local groups, and other stakeholders a means of raising concerns about potential staff misconduct or sharing feedback or programmatic activities (positive and negative) with Mercy Corps, independently from program operations.
In the context of Nigeria, rolling out and implementing CARM will ensure that the Nigeria team will continue to uphold Mercy Corps' high standards of accountability.
General Position Summary
The CARM Intern will support CARM implementation primarily within the THRIVE program in Jere. The successful candidate will support the Country CARM Officer in the continued establishment, maintenance, management, and adaptation of CARM implementation and rollout of CARM into the THRIVE program.
Essential Job Responsibilities
Implementation & Program Quality:
Support the implementation and adaptation of CARM in the THRIVE program.
Support to manage program-level feedback channels (helpdesk, suggestion boxes, community accountability community, community ambassadors, face-to-face).
Regularly collect feedback from context-appropriate feedback channels.
Log all feedback and responses in the CARM database.
Support to refer sector-specific feedback to appropriate channels for resolutions. Ensure all feedback and actions taken are documented and response/resolution of the feedback is shared back to the informants.
Ensure feedback is closed within the Mercy Corps CARM feedback grade turn-around time.
Provide weekly CARM updates to the Country CARM Officer.
Support in the development of work plan for the roll-out of CARM.
Support to conduct routine CARM sensitization to community members. Ensure inclusive sensitization in all communities.
Support the Country CARM team and/or local partners in designing and disseminating appropriate communication materials that promote the use of feedback mechanisms or transparency (hotline business cards, distribution signs, community signs and banners, etc.).
Conduct field visits, and engage in CARM spot checks and training.
Perform other duties and responsibilities as required that may be assigned from time to time by the supervisor.
Deliverables
With the support of the Country CARM team, the successful candidate will:
Regularly collect feedback from context-appropriate feedback channels.
Log all feedback and responses in the CARM database.
Refer sector-specific feedback to appropriate channels for resolutions. Ensure all feedback and actions taken are documented and response/resolution of the feedback is shared back to the informants within the turn-around time of each feedback grade.
Engage in community sensitization and disseminate communication materials that promote the use of feedback mechanisms or transparency.
Conduct CARM spot checks.
Organizational Learning:
This position will offer the intern an opportunity to understand what Mercy Corps stands for as well as understand the Humanitarian program in Borno State.
Working in the CARM department, the Intern will be able to learn how to receive, document and manage feedback on the CARM database plan and prioritize the work schedule in a fast-demanding work environment, in addition to working with participants of the different components of the program and the community in general.
The Intern will work with other team members in THRIVE as well as other units and should be able to develop a good working relationship with the rest of the team.
The major part of the job responsibility will be to support the Country CARM team with the set-up and continuous management of context-appropriate feedback channels, CARM sensitization, feedback intake, and referral on the CARM database.
Knowledge and Experience
A minimum of B.Sc / OND / NCE in relevant field.
Good organizational skills.
Ability to work under pressure.
Good oral and written skills and computer skills.
Strong computer skills in MS Office programs.
Fluency in English; fluency in Hausa and Kanuri is required.
Working Environment
The THRIVE program has lots of activities to be implemented that need to be completed within strict timelines. The Intern will be expected to work beyond the normal working hours some days and should be able to cope with the pressure of doing every task fast, effectively, and efficiently.
Office space as well as working equipment is limited and the Intern will have to cope with sharing space as well as equipment with the other team members.
Mercy Corps Interns and volunteers represent the organization both during and outside of work hours and are expected to conduct themselves in a professional manner and respect local laws, customs and Mercy Corps' policies, procedures, and values at all times and in all in-country locations.
Diversity, Equity & Inclusion:
Achieving our mission begins with how we build our team and work together. Through our commitment to enriching our organization with people of different origins, beliefs, backgrounds, and ways of thinking, we are better able to leverage the collective power of our teams and solve the world's most complex challenges.
We strive for a culture of trust and respect, where everyone contributes their perspectives and authentic selves, reaches their potential as individuals and teams, and collaborates to do the best work of their lives.
We recognize that diversity and inclusion is a journey, and we are committed to learning, listening and evolving to become more diverse, equitable and inclusive than we are today.
Equal Employment Opportunity:
Mercy Corps is an equal-opportunity employer that does not tolerate discrimination on any basis.
We actively seek out diverse backgrounds, perspectives, and skills so that we can be collectively stronger and have a sustained global impact. We are committed to providing an environment of respect and psychological safety where equal employment opportunities are available to all.
We do not engage in or tolerate discrimination on the basis of race, colour, gender identity, gender expression, religion, age, sexual orientation, national or ethnic origin, disability (including HIV/AIDS status), marital status, military veteran status or any other protected group in the locations where we work.
Safeguarding & Ethics:
Mercy Corps is committed to ensuring that all individuals we come into contact with through our work, whether team members, community members, program participants or others, are treated with respect and dignity.
We are committed to the core principles regarding the prevention of sexual exploitation and abuse laid out by the UN Secretary-General and IASCand have signed on to the Interagency Misconduct Disclosure Scheme.
We will not tolerate child abuse, sexual exploitation, abuse, or harassment by or of our team members. As part of our commitment to a safe and inclusive work environment, team members are expected to conduct themselves in a professional manner, respect local laws and customs, and adhere to the Mercy Corps Code of Conduct Policiesand values at all times.
Team members are required to complete mandatory Code of Conduct e-learning courses upon hire and on an annual basis.
Application Closing Date
21st July, 2023.
How To Apply:
Interested and qualified candidates should:
Click here to apply online
Note
Applicants should have their CVs and Cover Letters in one document addressing the position requirements.
Female candidates who are qualified are strongly encouraged to apply.
If you think this job post can be helpful to someone else, please share it on Facebook, Twitter, WhatsApp, LinkedIn or Telegram using the buttons below. Thank you