Abuja Clinics is a global standard health facility focused on providing all your health needs, not only curative but also preventive. We boast of cutting edge equipment which aid in the diagnosis and treatment of medical and surgical conditions. See more Abuja Clinics Job vacancies Here >>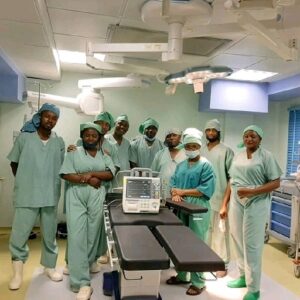 Abuja Clinics recruitment is to fill the position below:
Job Title: Chief Security Officer
Location: Abuja (FCT)
Essential Duties and Responsibilities
Day-to-day operations: Implementing and overseeing strategies to assess and mitigate risk, safeguarding the corporation and its assets, crisis management.
Security: Developing, implementing, and maintaining security processes and policies, identifying and reducing risks, limiting liability, and exposure to informational, physical, and financial risk.
Compliance: Making sure the company is compliant with local, national, and global regulations, especially in areas like privacy, health, and safety.
Innovation: Conducting research and executing security management solutions to help keep the organization safe
Qualifications
Bachelor's Degree or its equivalent in any related field of study.
Must have 3 to 5 years of proven post NYSC work experience as a Chief Security Officer.
Backgrounds in Military service will be an added advantage, Ex-Servicemen and retired paramilitary personnel are strongly encouraged to apply.
Knowledge, Skills, and Abilities:
Ability to work with little or no supervision.
Ability to work as a team. Good verbal and written communication skills. Must be cordial. Must be patient. Must be a good listener. Problem-solving skills.
A technical mind. Must be efficient and organized In-depth knowledge of security networking. Discretion and confidentiality. Ability to pay attention to details. Good analytical skills.
Dependable and flexible when necessary
This position requires a strong-willed individual with a positive work attitude. You must be a leader who is also self-motivated and dedicated.
You must be enthusiastic about your work and be able to perform all duties outlined in your job description and any other duty required of you.
Application Closing Date
30th August, 2023.
How To Apply:
Interested and qualified candidates should send their CV to: hr@abujaclinics.com using the Job Title as the subject of the mail.
Or
Click here to apply online
If you think this job post can be helpful to someone else, please share it on Facebook, Twitter, WhatsApp, LinkedIn or Telegram using the buttons below. Thank you