CareCentrix

promotes

health

at

home

through
whole-person
care
coordination
and
value-based
benefit
management
.
Utilizing
data
and
insights,
our
home-centered
approach
begins
with
the
members
we
support
and
works
to
provide
the
appropriate
care
at
the
appropriate
time
from
the
hospital
to
the
member's
home.
CareCentrix
has
vowed
to
put
the
patient's
home
at
the
core
of
care
for
more
than
25
years.
We
provide
the
appropriate
care
at
the
appropriate
time,
enhancing
member
outcomes
and
producing
savings
for
health
plans
and
healthcare
systems.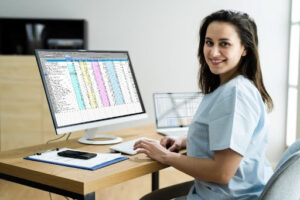 ---
Job Title: Patient Billing Representative
Payment: $17.50 an hour
Location: Work from Home Job

---
Full Job Description
Overview:
As a Billing Account Specialist you will provide excellent customer service to Identify patient's needs to help educate them on CareCentrix role in their care. You will determine the acceptance of patient's financial responsibility through claim research, plans and eligibility to resolve the patient's account. Identify and escalate patient issues and concerns

We are hiring multiple positions for this class to start on Monday, September 11th, 2023.
Responsibilities:
In this Job you will:
Researches, resolves, and documents patient inbound and outbound calls involving a wide range of issues utilizing multiple information systems. This includes communications with internal business centers and external customers. Assures customer agreement by summarizing and closing each call appropriately.
Investigates payment status and determines ultimate patient financial responsibility.
Collect outstanding balance, offer patient assistance with financial responsibility through various financial options.
Maintains patient confidentiality and data integrity in accordance with Health Information Portability Accountability Act (HIPAA), and company policies and procedures.
Exercises good judgment, interpret data, and remains knowledgeable in details of all related CareCentrix contracts, policies and procedures. Participates in process improvement initiatives; maintains teamwork, customer service production and quality standards to assure timely, efficient and accurate call resolution.
Minimize patient dissatisfaction with active listening, maintaining a professional tone, and acknowledging their concerns.
This job is for you if:
You are passionate about health care and believe that one of the best ways to do that is by helping improve the quality and access to care in the home.
You enjoy working in a fast-paced environment
You are accurate with strong attention to detail
You have the ability to communicate professionally
You are fun to work with! We take our commitment to patients seriously, but we don't take ourselves seriously. We are looking for team members who bring joy to the work they do.
Qualifications:
You should get in touch if you have:
High School Diploma or GED.
Minimum 1 year work experience.
Good computer skills
Great communication and problem solving skills – Embracing the values of accountability, consistency and engagement through excellent attendance
Excellent customer service through the ability to care for others – Flexibility, adaptability and motivation learn
What we offer:
Starting Pay for external hires is $17.50/hr + Incentive Bonus Opportunity. The pay range included in this posting reflects future growth / earning potential.
Full range of benefits including Health, Dental and Vision with HSA Employer Contributions and Dependent Care FSA Employer Match.
Profit Sharing, generous PTO, 401K Savings Plan, Paid Parental Leave, free on-demand Virtual Fitness Training and more.
Advancement opportunities, professional skills training, and tuition Reimbursement
Great culture with a sense of community.
CareCentrix maintains a drug-free workplace.
#IDCC
We are an equal opportunity employer. Employment selection and related decisions are made without regard to age, race, color, national origin, religion, sex, disability, sexual orientation, gender identification, or being a qualified disabled veteran or qualified veteran of the Vietnam era or any other category protected by Federal or State law.
If you think this job post can be helpful to someone else, please share it on Facebook, Twitter, WhatsApp, LinkedIn or Telegram using the buttons below. Thank you